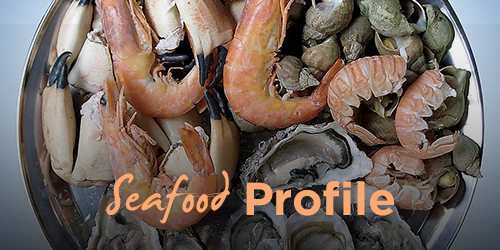 Macrobrachium rosenbergii, aka the giant river prawn, is hardly a shrimp, at least size-wise. They can grow up to 20 inches long and weigh as much as a pound each. They live mostly in fresh water and are native to the Indo-West Pacific from northwest India to Vietnam, Philippines, New Guinea and northern Australia. It has been introduced into many countries for aquaculture. In the U.S. they are found in Lake Okeechobee. They are a commercial shrimp species and are caught in the wild and also farmed.
They are unique not only for their gigantism but also because of their huge second pair of walking legs. They are are much larger and more powerful than the prawn's other legs, especially in males. The movable claws of the second pair of walking legs are distinctively covered in dense bristles (setae) that give it a velvety appearance. These large legs justify the genus name meaning 'large arms.' In the males, these walking legs can have a vibrant shade of blue and can also be twice the body length. The color of the claws in males varies according to their social dominance.
Once again, Wikipedia and Wikimedia Commons were lifesavers when I started researching and writing this exclusive post for Seafood Harvest. They provided the only photo I could find of prepared giant river prawns. The photographer, known by his handle "Takeaway," provided a description of this photo: "The dish is called Kung phao, literally "burned prawns." They are grilled prawns usually served with a dipping sauce (nam chim) made from mashed bird's eye chillies, coriander root, fish sauce, sugar and lime juice. The prawns seen in this image are large river prawns (Macrobrachium rosenbergii) which are called kung kam kram, which means  "superior/royal prawns." The two prawns used for this dish each weighed around 500 grams, about a pound. The yellow "sauce" is a thick liquid that comes from the prawn head and lends cooked/grilled/fried prawns a unique flavour. The photo was taken at the "Che Dam" restaurant in Pathum Thani province."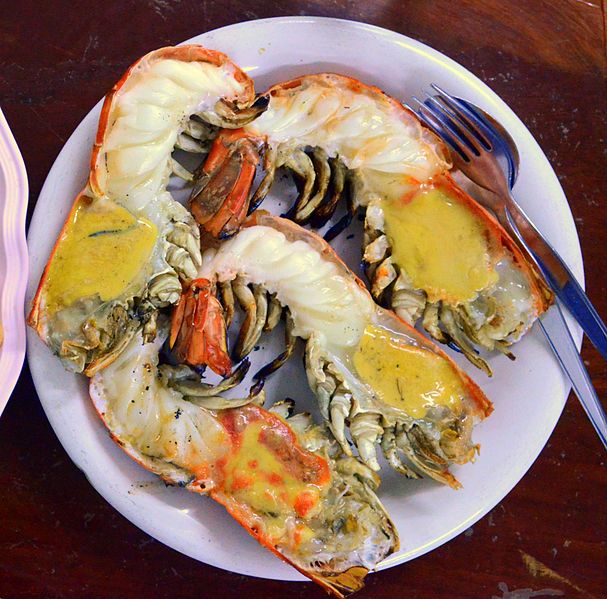 If this dish serves four, each diner will be eating a quarter pound of shrimp—now, that's not shrimpy at all. These were quite possibly farmed shrimp, which is easier to do with freshwater species like kung kam kram than the saltwater shrimp most of us are more familiar with. I'll find out more about shrimp farming and write a post on it in the near future.
Photo Credits:
Takeaway on Wikimedia Commons (cooked river prawns}
Citron / CC BY-SA 3.0 on Wikimedia Commons (Macrobrachium rosenbergii)