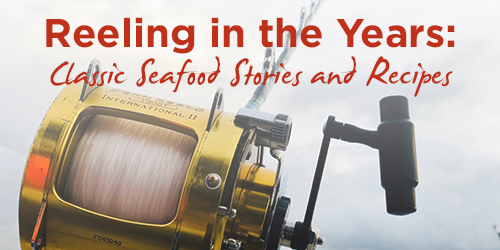 There are many parallels between fish soup and bouilabaisse, which is popular in southern France.  Tunisia has one of the richest fishing areas in North Africia.  Any kind of fish and shellfish can be used but avoid oily fish such as mackerel or sardines.
Chunky Tunisian Fish Soup Ingredients
2 tablespoons olive oil
2 cups chopped onions
1 red bell pepper, chopped
1 red chile, such as serrano or jalapeno, seeds and stem removed, minced
3 garlic cloves, minced
2 teaspoons Harissa
1/2 teaspoon cumin powder
1/8 teaspoon saffron threads
1 fennel bulb, diced
2 cups diced potatoes
6 cups fish stock
3 tablespoons fresh lemon juice
4 1/2 pounds mixed fish and shellfish, washed and cleaned
4 cups deseeded tomatoes
1/2 cup chopped cilantro
1/2 cup parsley
1 teaspoon salt
1/2 teaspoon freshly ground while pepper
Instructions
Heat the oil in a large, heavy casserole, add the onions, bell pepper, chile, and garlic, and saute for 2 minutes, stirring occasionally.
Stir in the Harissa, cumin powder, saffron, fennel, potatoes, lemon juice, and fish stock.  Bring the mixture to a boil, reduce the heat to a simmer, cover, and simmer for 15 to 20 minutes, until the potatoes are tender.
Add the fish, tomatoes, cilantro, parsley, salt and pepper, and simmer for 20 to 30 minutes, until the fish is tender.