Black pepper crab is one of the two most popular crab dishes in Singapore. It is made with hard-shell crabs fried with black pepper. Unlike the popular "chilli" crab dish, black pepper crab is less heavy due to the absence of a sauce. Black pepper crab is also very popular in Malaysia.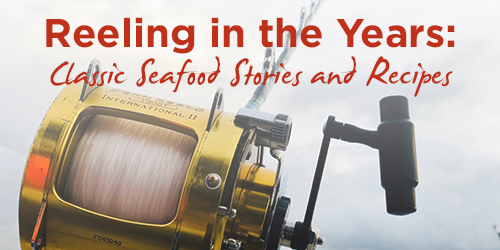 Singapore Black Pepper Crab Ingredients
4 pounds raw blue (or Dungeness) crabs
3 tablespoons dark soy sauce (lao chou or koi-kuchi Shoyu)
3 tablespoons oyster sauce (ho yau)
3 tablespoons granulated sugar
3 tablespoons water
1 1/2 tablespoons oil
1 1/2 tablespoons unsalted butter
1 1/2 tablespoons grated fresh ginger
6 garlic cloves, finely chopped
1 or two red serrano or large Thai chiles, minced
1 1/2 tablespoons freshly ground black pepper
1 1/2 teaspoons white pepper
1/4 teaspoon ground coriander
2 green onions, finely chopped, for garnish
1/4 cup chopped fresh cilantro, for garnish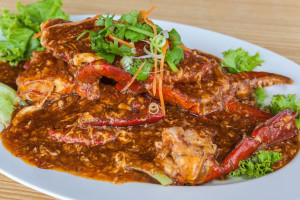 Instructions
Combine dark soy sauce, oyster sauce, sugar and water in a small bowl, stir, then set aside.
Pull back the apron of each crab, remove top shell, intestines and feathery gills. Rinse quickly. Cut each crab into quarters and crack the legs.
Heat the oil in a wok over high heat; add the crab pieces and stir fry in batches until the shell is bright orange and the meat almost cooked (about five minutes). Remove and repeat until all the crab is cooked.
Add the butter, ginger, garlic, chile, black and white peppers and coriander to the wok; stir fry 30 seconds. Add the sauce mixture and stir; bring to the boil; simmer two minutes.
Return the crab to the wok and toss to coat in the sauce. Cook another two to three minutes to finish cooking the crab. Transfer to a serving platter and garnish with the green onions and cilantro leaves. Serve with steamed jasmine rice.