If you've ever wondered about Michelin Starred cooking on a yacht, you're in for a treat today. Follow along as we take a look into the daily life and work of Sherakhan's Michelin starred Charter Chef, Toine Smulders.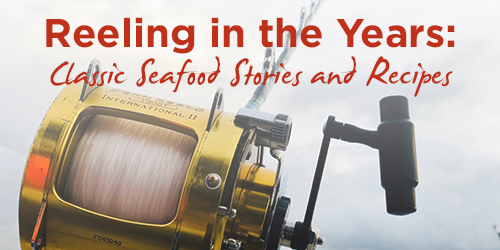 Sherakhan is available for charter in the Caribbean with a weekly charter rate of $499,000 plus the standard "extras" such as fuel and provisions, depending on a charterer's cruising plans and personal preferences.
One of the most important parts of a superyacht charter is the cuisine; it can elevate a trip from great to incredible. The chefs can not only whip up your favorite dishes and treats at a moment's notice, but also introduce you to out-of-this-world gourmet experiences and delicious local delicacies along the way. The superb 69.7-metre motor yacht Sherakhan, which can accommodate up to 26 charter guests, is famous for her outstanding cuisine created by Michelin-starred Chef, Toine Smulders and his two fellow galley professionals.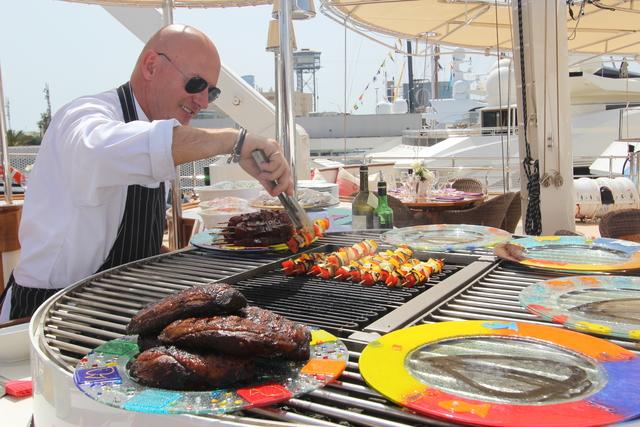 Hailing from Holland, Smulders first immersed himself in the culinary world at the age of 16, after a chance encounter with gastronomy and all its wonders; he has been passionate about creativity with food ever since. Although his first chef job was at an establishment specializing in French cuisine, Smulders has worked around the world – on land as well as yachts – with work taking him to restaurants in France, Italy, Spain and Switzerland.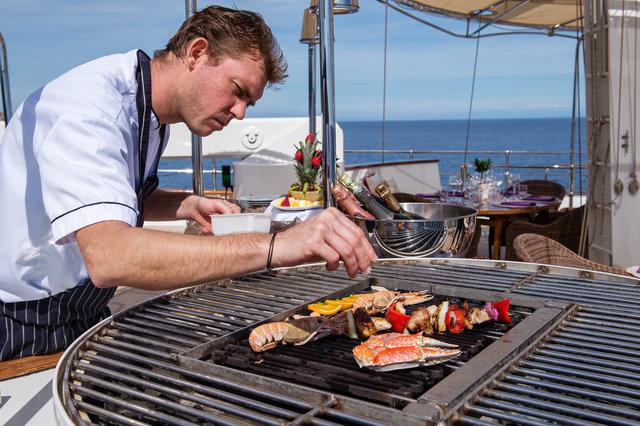 Smulders was drawn to the unique challenges and rewards of being a superyacht chef, and took his first role on board the sailing yacht Dardanella, followed by a number of years on board the classic Feadship sailing yacht Iduna. After exclusively focusing on sailing yachts thus far, in 2018 he decided to try a new experience on board a motor superyacht, and so approached Jan Verkerk, owner of Sherakhan, through a mutual contact. The two hit it off and he joined the famous yacht as Charter chef in March that year.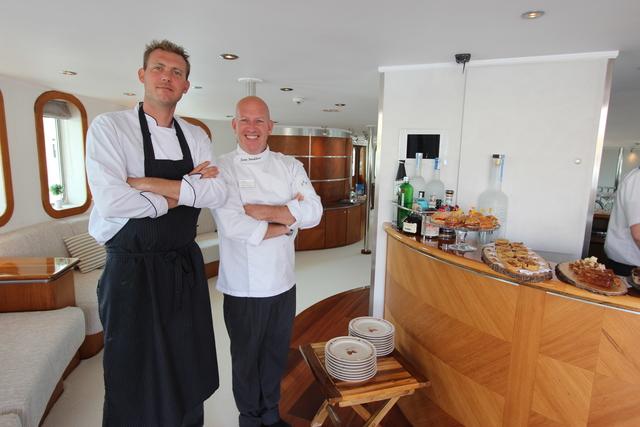 Smulders' favorite thing about being a luxury yacht chef is the freedom that he has in the kitchen to delight the guests, without the budget constraints that exist in restaurants. There is no such thing as impossible on board Sherakhan, he explains, adding: "We can cook Dutch frikandel, Saudi Arabian kabsa or South African lemon pie; you name it, we can make it!"
Of course, any kind of food is available to charter guests on board Sherakhan, but if Smulders was to describe his "signature style", it would be la cuisine du soleil: "Flavors are the most important part of the food I create, alongside their structures," he comments. "Natural, healthy and recognizable food is very important to me."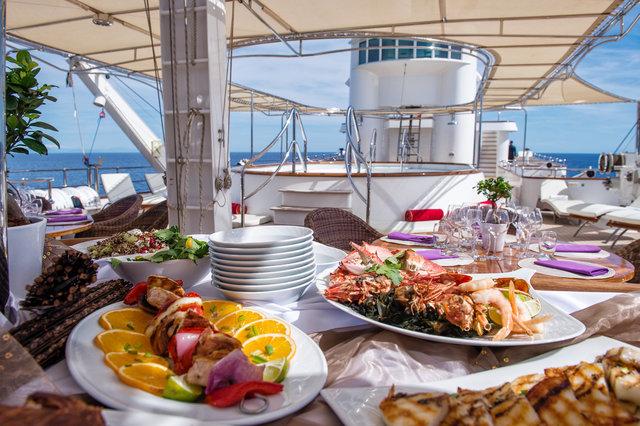 The current food trends that he finds exciting and inspiring are healthy, vegan and local food. For him, in essence these developments are led by a desire for authentic food that goes back to basics. Asian flavors also continue to be popular and inspiring.
The superb galley on board Sherakhan allows Smulders to let his imagination run free, with access to all manner of high-tech culinary equipment and exceptional ingredients. One of the unusual pieces of kit on board is the candy-floss machine, which he uses to create a sweet accompaniment in a unique fois gras dish, proving gourmet food can be surprising and fun as well as delicious.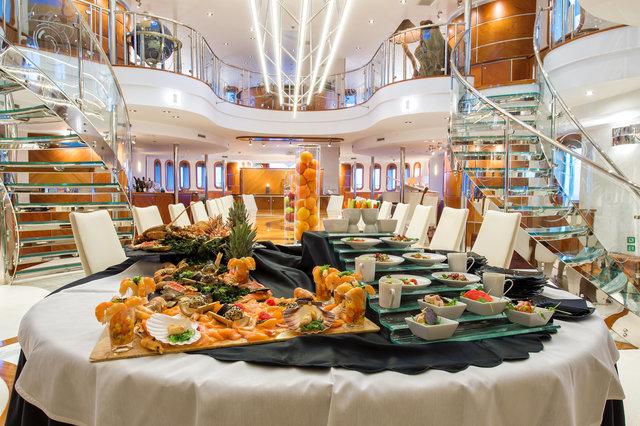 To guarantee a smooth-running charter experience for guests, Smulders has daily meetings with the yacht's Hotel Manager Manon de Wit, planning each meal including where it will be served, themes and wine pairings. It is a crucial working relationship for a well-oiled charter yacht, and Smulders describes theirs as a "golden match". There are ample choices of dining locations on board, from the multiple outdoor decks with beautiful landscape views to the showstopping double-height dining room with a galleried atrium and skylight from the glass-bottomed sundeck Jacuzzi. The latter is Smulders' favorite place on Sherakhan to create an unforgettable dining experience, as 26 guests can sit together at the enormous, curved table in a spectacular atmosphere with custom-made chandeliers and sumptuous surroundings.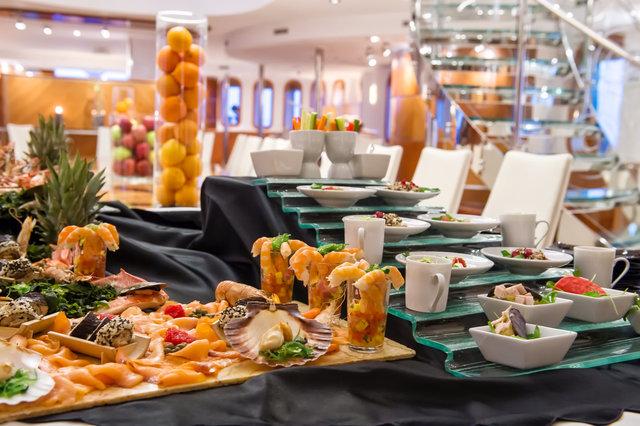 The ability to give guests an extraordinary charter vacation through their dining experiences is Smulders' greatest professional motivation, finding the human element of his work and providing connection through food. One of his standout experiences on Sherakhan is a charter that they did for a Canadian family who were celebrating a special occasion in the Bahamas. "They were lovely people and they were really impressed by the food we had created for them," he explains. "When it was time for them to leave, they had tears in their eyes from feeling like the luckiest people on the planet. It was so rewarding to have been a part of that."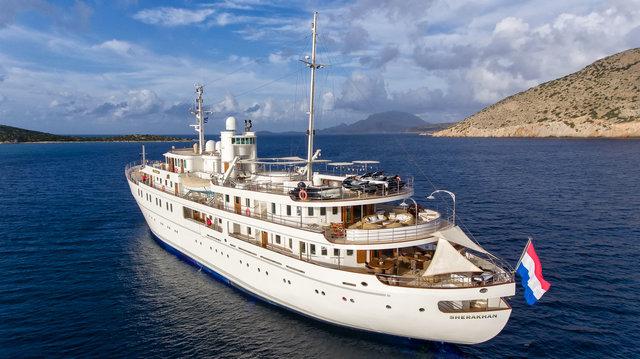 Of course, working on a traveling and moving yacht offers logistical challenges to chefs, but Smulders says that this also provides one of the highlights in his job: "I love the exploration of new ingredients, cultures and traditions and the opportunity to meet new people through my work on board. In more remote locations it can be hard to source provisions, but I love to explore the islands and buy beautiful local ingredients. Sometimes we need to improvise a little, but that is what we are trained for – as chefs, creativity is in our DNA!"
If you have half a million dollars burning a hole in your pocket, you can book Sherakhan here.