Before Paul Bocuse decided to leave the kitchen to interact with his customers in the dining room, Chefs de Cuisine were characters confined to their cooking spaces and of not too much public interest. Like everybody else in his profession, Monsieur Bocuse was just a cook, but no less than a member of the French resistance injured in combat during WWII. He was also the creator of the Nouvelle Cuisine, but above all, he was an extraordinary salesman! Once people began to say "I met a Michelin star Chef at his restaurant", other—starred or not—cooks, knowing that working the dining room brought more business, followed suit. That was the beginning of the chef venerating culture, a trend established not without the help of the media.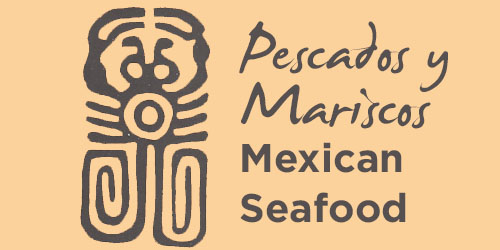 In time, the food magazines and TV shows got saturated with cooking celebrities. Perhaps there were too many of them, making it difficult to remember their names but worst of all, their complicated recipes were often almost impossible to replicate at home. This period also brought frustration to young aspiring cooks who were made to believe that to be successful they needed to have their own TV show in an environment where there was not enough air time for everybody. Always in search of fresh content, it was time for the media to look somewhere else. Antennas raised, they found in Mexican traditional food an infinite source of novel material. To my recollection, it was the New York Times that put on the spot the Zapotec cook Abigail Mendoza—teamed with her mother and sisters— by choosing their restaurant Tlamanalli in Teotitlán del Valle, Oaxaca in the category of "Top-Notch Tables" in 1993. The Mexican traditional cooks thus began to rise as the new stars.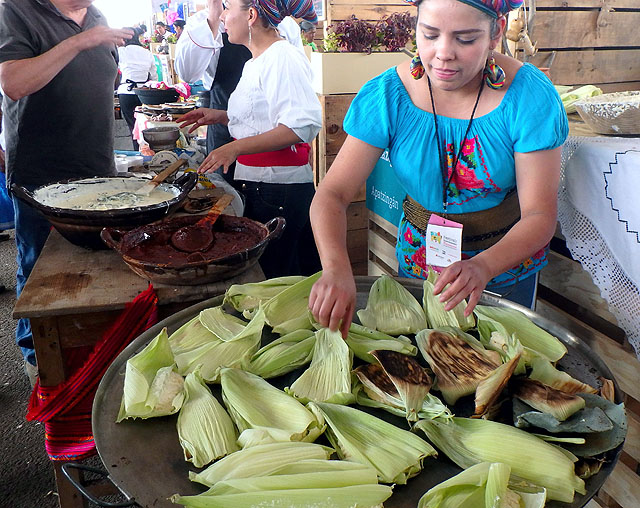 Streaming TV and social media were also the "new-and-improved" channels for Mexican cooking culture dissemination. Las cocineras tradicionales de México became a trend. These ladies—and some gentlemen too—are extraordinary cooks with no formal cooking education. Cooks that learned about food from ancestors de generación en generación preserving ancient cooking methods and techniques only through practice using family recipes. Please note that I chose the word "traditional" over "authentic," a term that has been misused and abused.
In 1957, Diana Kennedy moved to Mexico and out of curiosity and wonder started to explore markets and foods that, for an English woman, were extraordinary. She began to document her discoveries and published her findings in books in English. The value of her discoveries and her talent for the description of her experiences conquered thousands of English language readers around the world. Diana credited the people from whom she learned about regional Mexican cuisines and they were no other than humble traditional cooks. The symbiosis was perfect. Diana was, in fact, the one who filtered information about the Mendoza family and Tlamanalli to the New York Times. That's what I call a real influencer.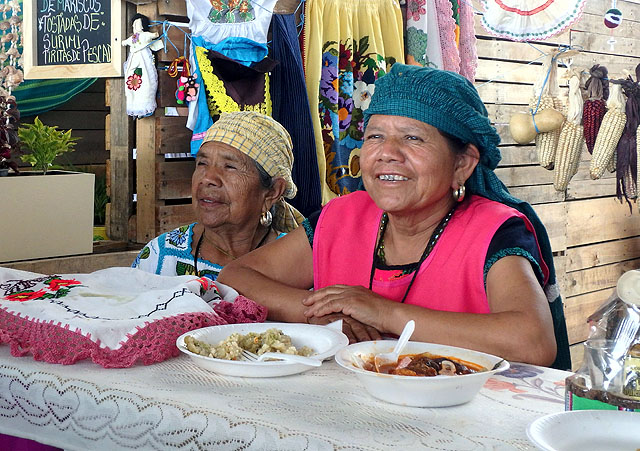 Other foreigners also moved to Mexico and embarked in the journey of traditional Mexican food discovery, notably Cristina Potters, who has lived in Mexico since 1981. She is the author of Mexico Cooks!, the preeminent English-language website about all things regarding Mexican cuisines and cultures. The London Times named Mexico Cooks!  the number one food website in the world. It reaches between six and seven million readers in every part of the world. Cristina was invited to be part of the Cocineras Tradicionales de Michoacán organizing committee, a civil group promoting traditional gastronomy of that State. What an honor! I consider Cristina an expert on "under the radar" jewel places to eat awesome food in Michaocán. I'm looking forward to visiting her soon. Susana Trilling moved to Mexico in 1988 and established herself just outside of Oaxaca City. She is a Chef, teacher, caterer, author, TV hostess, consultant, and director of Seasons of My Heart Cooking School. She made herself an expert on Oaxacan cuisine, having professionals and aficionados as her followers. She is one of my favorite people to enjoy endless food conversations with. Diana, Cristina and Susana have contributed immensely to the dissemination of Mexican food knowledge around the world, for that I express here my deepest gratitude.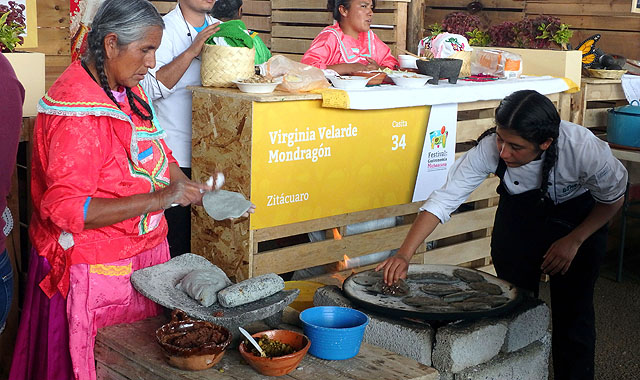 The Mexican government—federal and state—realized the cultural and touristic value of traditional gastronomy and began to support its diffusion. Food festivals sprung up in different states attracting the attention of nationals and foreigners. One significant strategy proved successful in the state of Veracruz. They financed the construction of Centro de las Artes Indígenas, a space where ceramics, textiles, painting, ancestral medicine, traditional dances and music, theater, and traditional gastronomy are fields of study. The rich variety of mountain and sea ingredients available in the area were key to collecting more than 500 recipes only in the Totonacapan region and were published in a book called Mujeres de Humo (Smoke Women), a real treasure of food culture knowledge.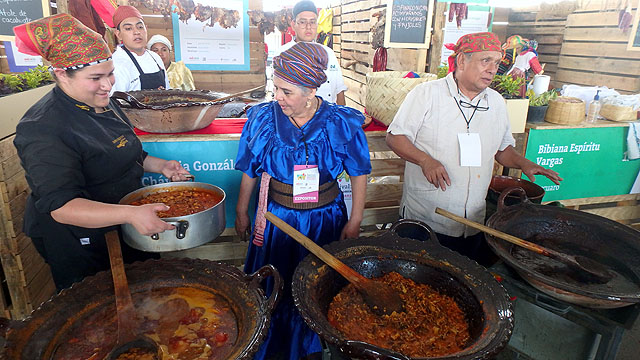 It is not rare that a traditional cook be illiterate and that her first language is not Spanish but an indigenous dialect. My experience tells me that this is not necessarily a handicap; intelligence and talent override anything and Spanish as a second language is easily learned.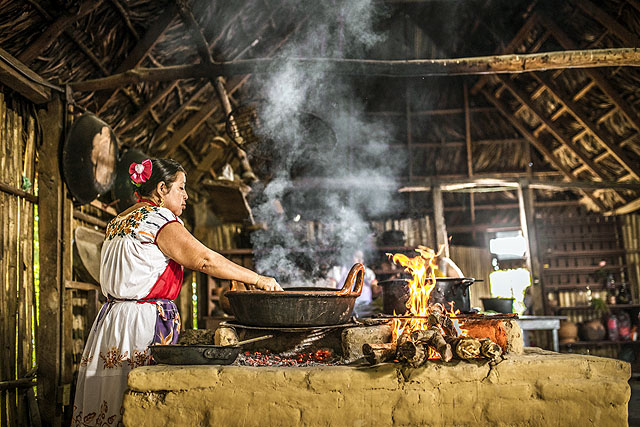 Once I was told that the day of a Cocinera Tradicional starts the day before. For this I needed an explanation and I was given one: collecting wood, degraining corn and prepping the nixtamal needs to be done the day before. Beans also have to be cleaned and cooked in advance. To all this, add weeding the milpa and picking veggies para mañana. But any day it starts grinding the nixtamal to masa. If there is no molino, the grinding is done in the metate, a back breaking feat, plus tortillas are made by hand. The ever present salsa picante is prepared by roasting the veggies in the comal and grinding all in a molcajete. All this while keeping the fire alive and at the right temperature! A labor intensive occupation performed often in the absence of electricity.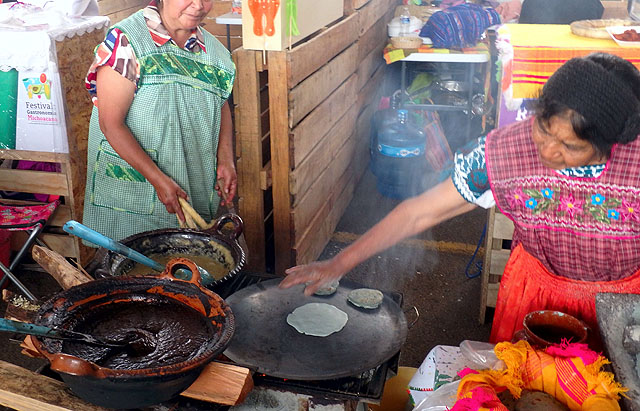 A day for a traditional cook is long. A week for a traditional cook is also long, with no day off and no vacation time all year long. All work in the kitchen is mostly done while breathing smoke. Kitchens—and lungs—tainted by soot, are witnesses to hard work, sweat, and lots of love for food and family, producing daily extraordinary meals with fresh natural ingredients. How can we not love the humble heroines living to preserve food culture and often dying prematurely of lung diseases without ever signing a book? Do you still want to venerate Chefs de Cuisine?
Recipes for Cocineras Tradicionales: The Traditional Cooks of Mexico
Pescado a la Vainilla en Hoja de Plátano: Fish À la Vanilla in Banana Leaf
Vanilla pods are the fruit of orchids native to the Papantla, Veracruz region. This fabulous ingredient combined with the fish of the Gulf of Mexico make this dish a great example of what can be done with local ingredients and cooking talent.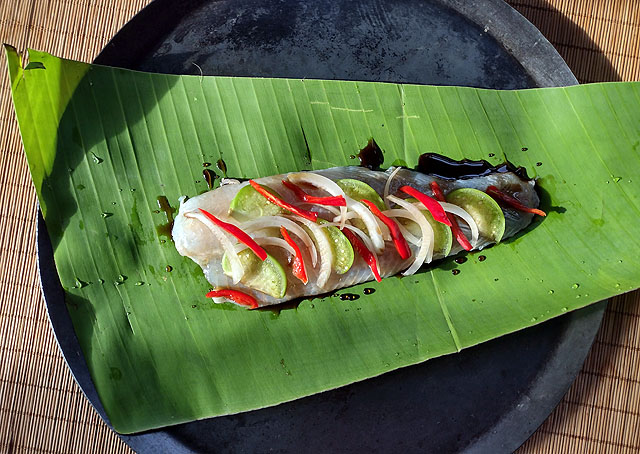 Ingredients
4 white fish filets
4 tomatillos, finely sliced
½ onion finely sliced
1 chile habanero, serrano, or jalapeño, stemmed, seeded, deveined, and finely sliced
4 banana leaves
Vanilla essence to taste
Salt to taste
Instructions
In a hot griddle, place a banana leaf with a filet, tomatillos, onion, and chile on top. Add the salt and sprinkle the vanilla.
When the leaf changes color it becomes pliable. Make a wrap with it and turn it to cook evenly on low temperature between 15 and 20 minutes. Repeat with the rest of the filets. Serve and enjoy!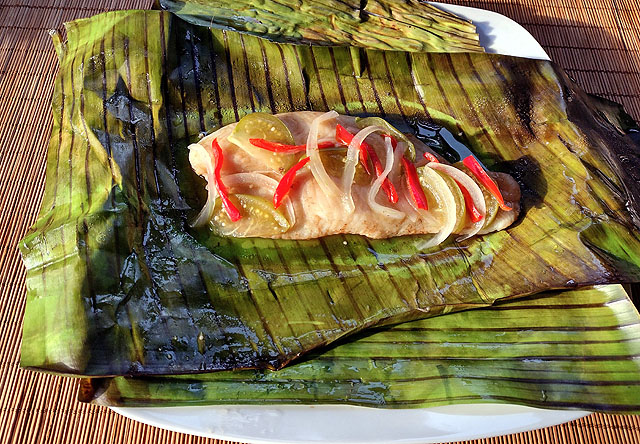 Yield: 4 servings
Heat Level: Medium to hot
Tortitas de Pescado y Papas: Fish and Potatoes Patties
A simple dish full of flavor that exploits the perfect combination of fish and potatoes.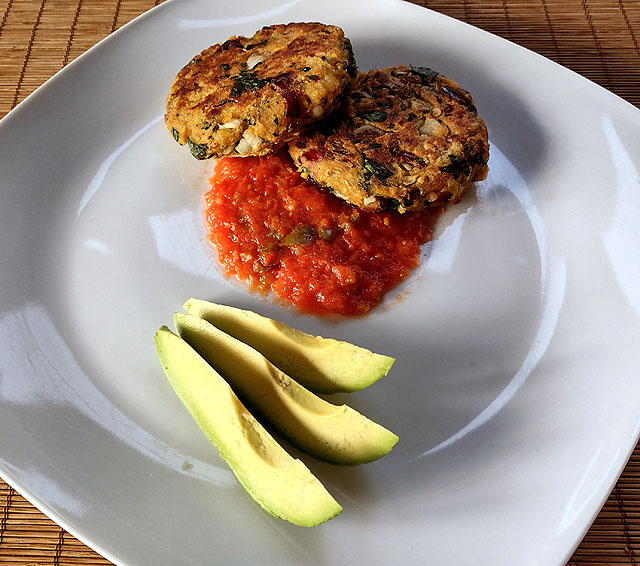 Ingredients
4 white fish filets cut in small cubes
2 to 3 boiled potatoes and cut in small cubes
½ onion finely chopped
1 clove garlic minced
1 bunch cilantro chopped
1 to 2 guajillo chiles crushed
½ cup bread crumbs
A pinch of orégano
A pinch of fine herbs
Cooking oil
Salt to taste
Instructions
In a pot, boil the fish almost covered with water for between 10 and 15 minutes with salt and the fine herbs. Drain and reserve.
In a bowl shred the fish with a fork. Add the potatoes and salt and smash everything into a purée.
Add the onion, garlic, cilantro, chile, bread crumbs and orégano and incorporate it into the purée. Make 8 patties and fry them in little oil. Serve with your favorite sauce and salad. Enjoy!
Yield: 4 servings
Heat Level: Medium