My thirty year old refrigerator started to fail. Against all odds, the fridge began to freeze the vegetables in the lower level drawers. This forced me to keep my vegetables at room temperature in a kitchen that is cool most of the time, but nonetheless, my veggies began to ripen faster. The tomatoes, habaneros, and serranos were the ones that suffered the most. A firm tomato that otherwise would be used in a salad turned soft fast and became ready for a salsa picante de molcajete. So, my weekly supply of tomatoes and fresh chiles required prompt attention. Soon there was too much salsa picante around and too many tomatoes ready for the molcajete. Canning salsa picante and pasta sauce became rational avenues to take. Additionally, I adjusted my vegetable shopping volume and agenda. Buying fewer vegetables and going more often to visit my produce supplier was the immediate answer but the ripening times were hard to guess. I decided then to search through my food files to find more ways to use ripe tomatoes and chiles until I mastered the new domestic situation. I ventured thus to produce something else besides the usual serrano, habanero and chipotle concoctions, and share those seafood salsa recipes with you—see below.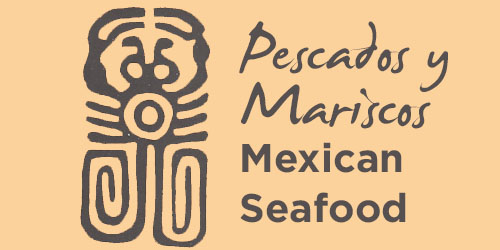 For starters, my files produced a recipe for a salsa used on grilled fish in the State of Tabasco that includes the leaves of an amashito chile plant. This Capsicum annuum variety—a close relative of the piquín—grows wild in the jungle of Tabasco where it is consumed fresh. Since I do not own a Chiltepín or Piquín plant that could be used as substitutes, I visited a friend who has several piquín plants and with his permission, I harvested a handful of fresh leaves and green little chiles for my experiment. The leaves contributed a dark green color to my salsa. They added a rough texture and a herbaceous flavor. The product turned out well and I consider this an excellent addition to my homemade salsas repertoire. Once the salsa was ready, I used it over shrimp tacos with a surprising new twist in flavor. Can other chile plant leaves be used in a salsa? I think so and I'm curious to try that soon…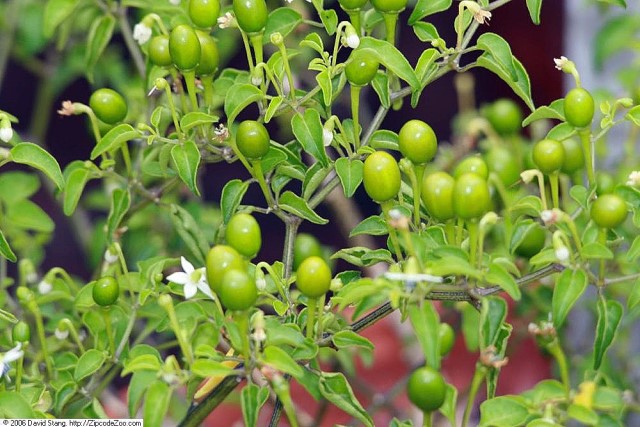 While tomatoes or tomatillos are quasi-essential for making a salsa, I found other ingredients in my recipe collection such as cloves, cinnamon, all kinds of seeds along with the omnipresent chiles, herbs, and spices. Sometimes, some suggested combinations do not make culinary sense. At first sight, those combinations tell me they aren't good ideas and I don't even dare to try them. I prefer to walk on solid ground, trusting time-tested recipes. While there are no rules in making salsa picante, by the same token, good results are not guaranteed. My criteria is that a salsa needs to be edible—with corn chips first—and then it needs to produce a "good marriage" with the dish I have in front  of me.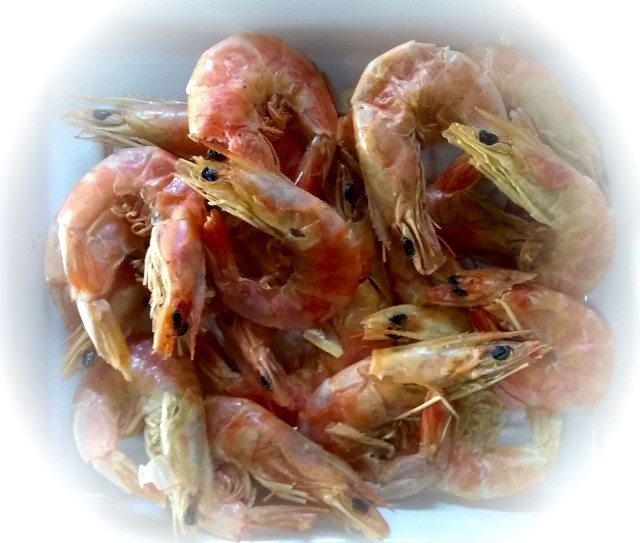 Some time ago I wrote a piece on sun-dried shrimp that should have included a recipe of a sun dried shrimp salsa. Space limitations prevented it from happening but we can do it now since we are occupied with unconventional salsas. The first time I tasted this shrimp salsa was in a small restaurant in Puerto Escondido, Oaxaca, a place where the southern mountains in Mexico meet the Pacific Ocean. This beautiful town was originally a fishing village and a point of export for coffee beans produced in the region. Today, Puerto Escondido is an adventure travel destination, home of international events for the most experienced surfers in the world. I tried the sun dried shrimp salsa on grilled octopus tacos and the combination was outstanding. The contrast of flavors worked very well and became one of my "unconventional favorites."
In my opinion, chile is the indispensable ingredient in salsa picante. Black—or any other color of pepper—should be the forbidden ingredient as I have publicly expressed in other writings and venues: "In Mexico we have many varieties of chiles, which gives me an assortment of flavors and pungencies that pepper just cannot deliver"… How about fruit on a salsa? Well I have tried mangos with habaneros on pork chops and the result was outstanding. Speaking of mangos, my files' findings also produced a recipe that I got from a friend from Cuetzalan in the State of Puebla. This interesting salsa combines the acidity of wild tomatillos with the sweetness of mangos plus the subtle intervention of an avocado leaf that is submerged in the salsa for a few minutes after being put together then removed before serving it. This salsa is common in Cuetzalan and is used on grilled or fried fish.
Before I start shopping for a new fridge, I decided to write this piece and share some recipes with you hoping that your refrigerator doesn't have to break down before you try to make your own unconventional salsas! Provecho!
Recipes for Unconventional Seafood Salsas
Salsa Picante con Hojas de Chile Piquín (Salsa Picante with Chile Piquín Leaves)
An interesting combination that adds an herbaceous and spicy flavor to your favorite seafood.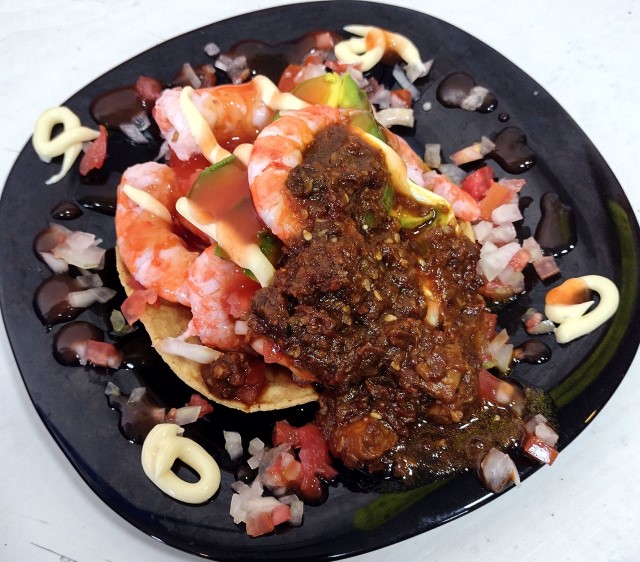 Ingredients
2 ripe tomatoes
¼ white onion
1 clove garlic
8 chiles piquín fresh green. Substitute red dried piquín
8 fresh chile piquín leaves. Substitute 4 spinach leaves
Salt to taste
Squirt of lemon juice
Instructions
In a blender mix all ingredients except the lemon juice. Pour into a bowl and add the lemon juice. Check for salt and lemon juice, adjust to your liking. Serve over grilled or fried fish.
Heat level: Hot
Yield: 4 to 6 servings
Salsa de Camarón Seco (Dried Shrimp Salsa)
This flavorful salsa is popular on the coast of Oaxaca. Before you add it to a grilled fish, try it on a warm tortilla or corn chips. You would love it!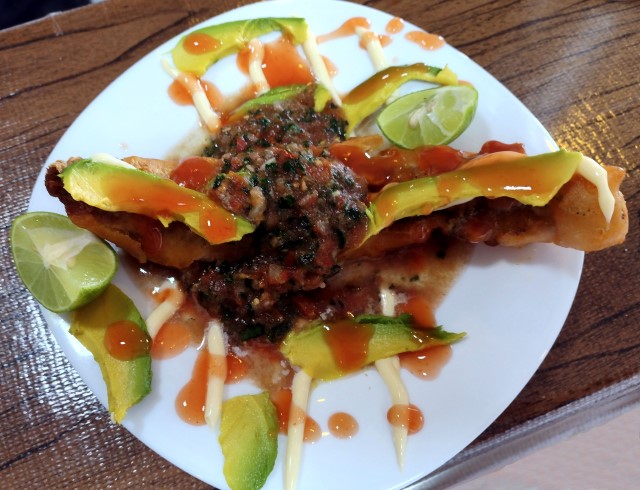 Ingredients
4 oz. sun dried shrimp
2 oz. sesame seed
2 chiles anchos stemmed, seeded and deveined. Reserve the seeds
2 chiles mulatos stemmed, seeded and deveined. Reserve the seeds
2 chiles chipotles en adobo (from a can) stemmed
½ onion
1 clove garlic
Salt to taste
Pinch of sugar (optional)
Vegetable oil
Instructions
Toast the chiles, chile seeds, and sesame seeds and add to a blender. Cut the heads and tails of the shrimp and add them to the blender along with the chipotles, onion, garlic and salt. Blend to a uniform sauce and heat it on a frying pan adding little water.
Finely chop the headless, tailless shrimp and add them to the pan. Simmer for 3 minutes, let it cool off, check for salt, and adjust if necessary. If the salsa is bitter to your taste add the sugar. Serve over grilled fish or octopus.
Heat level: Medium to Hot
Yield: 4 to 6 servings
Salsa Cuetzalan
An unimaginable simple combination of tropical ingredients that produces great flavor and experience.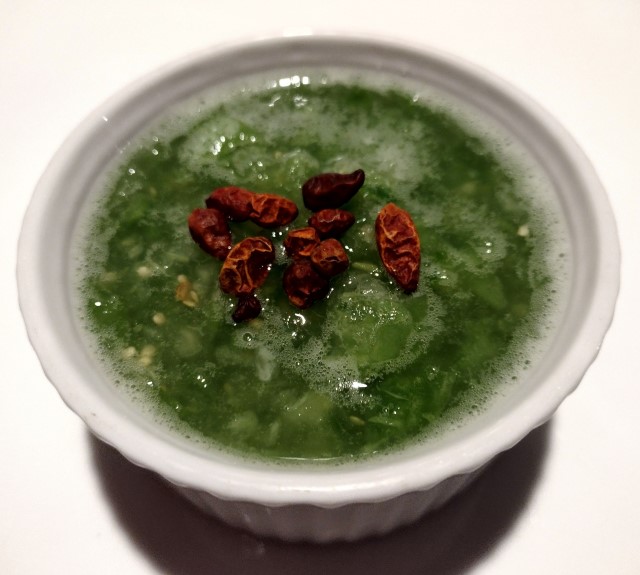 Ingredients
6 tomatillos
4 to 6 chiles piquín fresh. Substitute 4 serranos stemmed, seeded and deveined.
1 mango peeled, pitted, chopped
2 avocado leaves fresh
A pinch of finely chopped roasted onion
A pinch of finely chopped roasted garlic
Salt to taste
Instructions
In a hot griddle roast the tomatillos, chiles, onion and garlic, and mix them hot in a blender to a rough texture. Pour the hot roasted veggies in a warm bowl and place the avocado leaves in the mix to let it cool off. Remove the avocado leaves and add the mango. Serve over grilled or fried fish. Enjoy!