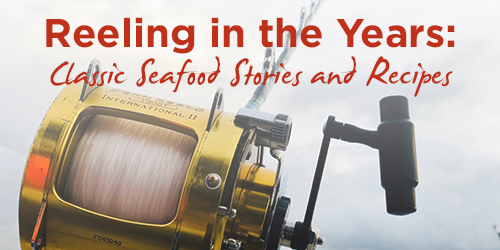 The marinade in this grilled shrimp recipe also doubles as the dressing for the salad. We like to serve this salad with the shrimp hot off the grill, but it can be prepared ahead and served chilled. This is a meal in itself, but why not treat yourself to a chilled gazpacho and a dry white wine?
Gingered Shrimp Marinade and Dressing

1/4 cup vegetable oil
1/4 cup peanut oil
6 tablespoons rice wine vinegar
6 small Thai chiles, stems removed, minced (or substitute serrano chiles)
2 tablespoons minced ginger
1 tablespoon chopped green onions, including the green tops
1 tablespoon dry sherry
1 teaspoon five-spice powder
1 teaspoon soy sauce
½ teaspoon sesame oil
Grilled Shrimp Salad
24 medium shrimp, shelled and deveined, tails off
Vegetable oil for frying
4 egg roll wrappers, cut in 1/4-inch strips
Ground New Mexico red chile
Mixed baby greens
3 slices red onion
Combine all the ingredients for the marinade in a blender or food processor and puree until smooth. Place in a bowl and allow to sit at room temperature for an hour or two.
Remove the marinade from the refrigerator and strain the mixture, saving both the solids and the liquid. Combine the solids with additional peanut oil and brush on the shrimp. Place in a bowl and marinate in the refrigerator for a couple of hours.
Pour the oil in a deep-fat fryer or in a wok to a depth of a couple of inches and heat until hot, 375 degrees. Add the egg roll strips in batches and fry for 30 seconds to crisp. Remove, drain and sprinkle with the ground red chile.
Place the shrimp in a vegetable basket and grill over a medium-hot fire for about 6 minutes, shaking the shrimp often so that they are cooked evenly.
Toss the greens with the reserved marinade liquid and divide between chilled salad plates. Arrange the sliced onion over the salads and top with the shrimp. Garnish the salads with the crispy strips and serve.
Find more terrific Asian grilling recipes on our sister site in this story by Dave DeWitt and Nancy Gerlach.