A staple in North Africa, cous cous is wheat in granular form that is usually steamed. It is also often combined with meats or vegetables, and of course we've added chiles to it. The marinade for these kabobs is quite sweet–but also works well with the shrimp. Interestingly, this is a re-creation of a dish Nancy was served in the British Virgin Islands. Serve with a salad of star fruit, avocado, and grapefruit, and a cooling Key lime sorbet for dessert.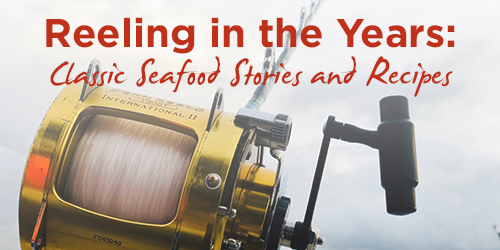 Spicy Grilled Coconut Shrimp Kabobs with Cous Cous Ingredients
For the Sweet-Hot Coconut Marinade:
1/4 cup brown sugar
1 teaspoon ground habanero chile
2 teaspoons chopped fresh thyme or substitute ½ teaspoon dried thyme
2 tablespoons honey
1/4 cup coconut cream
3 tablespoons vegetable oil
1 tablespoon lime juice, fresh preferred
2 dozen medium shrimp, shelled and deveined, tails on
For the Jalapeño-Cilantro Cous Cous:
1 tablespoon vegetable oil
2 cloves garlic, minced
2 shallots, chopped
1 jalapeño chile, stem and seeds removed, minced
1 teaspoon dried thyme
2 cups chicken broth
1 cup cous cous
2 tablespoons chopped fresh cilantro
1 tablespoon chopped chives
Salt and freshly ground black pepper
For the Kabobs:
1 green or red bell pepper, stem and seeds removed, cut in wedges
1 small onion, cut and separated into wedges
3 to 4 jalapeño chiles, stems and seeds removed, cut in slivers
8 cherry tomatoes
Instructions
Combine the brown sugar, pepper, garlic, thyme, honey, and coconut milk, and mix well. Slowly whisk the oil in the marinade. Place the shrimp in a bowl and pour the marinade over them, coating them well. Cover and marinate the shrimp for 1 hour at room temperature.
For the cous cous, heat the oil in a pan and saute the garlic, shallot, and jalapeño until soft. Stir in the thyme. In a pan, bring the chicken broth to a boil and pour over the couscous in a bowl, flake with a fork and let sit for 15 minutes. Drain off any excess liquid. Add the shallot mixture, cilantro, and thyme and toss to mix well. Season with salt and pepper and keep warm.
Remove the shrimp from the marinade. Thread the shrimp on skewers alternating with the vegetables. Grill the shrimp over a medium fire, basting frequently with the marinade until done, about 6 to 8 minutes, turning occasionally.
To serve, spoon the cous cous onto a warm serving platter. Lay the kabobs over the cous cous and serve.