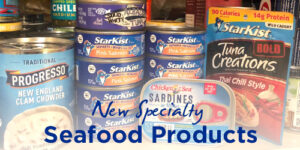 Seabear Smokehouse bills these Scalibut Cakes as "A deliciously rich combination of Alaskan Scallops and Halibut, plus hand selected herbs and spices, in an easy to serve seafood cake." I suppose that's a much more professional description than "Yummy McYumface" but both are accurate.
Back in 2004 Bobby Olmsted and Bev Simko created the originals by hand at Café Olga, on Orcas Island. Obviously the idea took hold, as great concepts often do. You can enjoy them in a variety of ways, just like you would with any conventional crab cake: as an entree, in a sandwich, you get the idea. And if you're planning a small gathering for Thanksgiving, they're a good addition to the spread or even an alternative to turkey, if you like.
Every order of Scalibut Cakes also comes with a pouch of Café Olga's exclusive Scalibut Cake dipping sauce. Each order comes with six of the 3 oz Scalibut Cakes. You'll find these and more Thanksgiving seafood alternatives here.