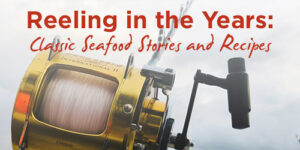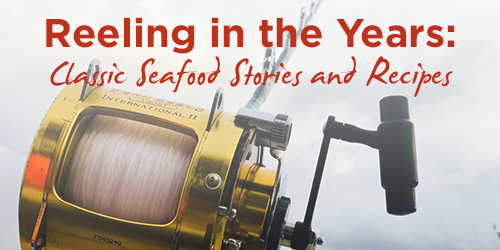 Anchos are the dried chiles I use most for they have the best balance of fruity, spicy and earthy flavors. Ancho powder gives this glaze its appealing brick-red color and warm—not fiery—flavor. I definitely find that tuna needs intense flavors, like orange and allspice, to lighten it up and show off that meaty texture.
Ingredients

The Glaze:
3 cups orange juice
3 tablespoons rice vinegar
2 teaspoons ground allspice
1 tablespoon ancho chile powder
1/2 cup mild vegetable oil, such as canola
Salt and freshly ground black pepper
The Tuna:
4 (8-ounce) tuna fillets or steaks, 1 to 1 1/2 inches thick
Mild vegetable oil, such as canola
Salt and freshly ground black pepper
Instructions
The Sauce 
Place the orange juice in a medium saucepan (not aluminum or cast-iron) and boil until reduced to 1/2 cup.
Transfer the orange syrup to a blender, add the vinegar, allspice, and ancho powder, and blend until combined. With the motor running, slowly add the oil and process until emulsified. Season to taste with salt and pepper.
Note: The glaze can be made a few days in advance, covered, and kept refrigerated. Bring to room temperature before using.
The Tuna

Heat your grill to high.
Set aside a few tablespoons of glaze for brushing the cooked fish. Brush the fish on both sides with oil and season with salt and pepper. Put the fish on the grill with the top side down (in other words, the side that will face up when you serve, so it should be the best-looking side). Grill the fish until crusty and browned on the bottom, about 3 minutes. Turn the fish over and grill, brushing the top frequently with the glaze, until medium-rare, 2 to 3 minutes longer.
Remove the fish from the grill and brush on both sides with the reserved glaze. Serve immediately.