Last week we shared the news of the limited release Old Bay Goldfish Crackers. This week we used them in a cheesy crab and shrimp seafood salad recipe. Oh, yeah, we're definitely doing this again.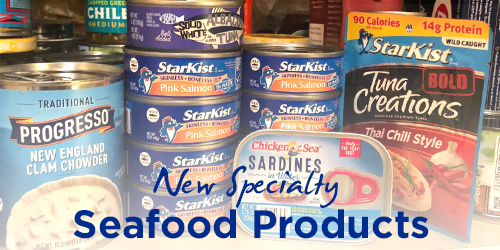 We scored some of the Goldfish Crackers from the local Kroger to the tune of six bucks for three bags. They pack everything you love about the crackers with everything you love about Old Bay Seasoning. To no one's shock and amazement, the flavor combination was awesome. Cheesy snack food goodness meets the savory blend of celery salt, black pepper, paprika, and so on that comprise one of the most popular seafood seasonings on the East Coast, if not the entire United States. By themselves the seasoned little cheese fishies are a very good snack.
But they can be put to better usage in actual seafood.
If you're familiar with Old Bay Seasoning you know how well it goes with shrimp, crab, eggs, peanuts, potatoes, and so on. But put a cup of the new crackers in a Ziplock bag and beat them like they owe you money and you end up with a crumb blend that's ripe for use over a seafood macaroni and cheese, for one thing. While we haven't gotten to make that yet, it's on the project list. Instead we opted for a big bowl of hot seafood dip, which we also later used for a blackened Cajun seafood melt sandwich. The dip was a great success with the crumb blend bringing an extra layer of flavor to a dish we already liked. Which is really all you can ask of these crackers. We recommend that you hunt them down at your local store (or online) and hoard them like toilet paper in a pandemic.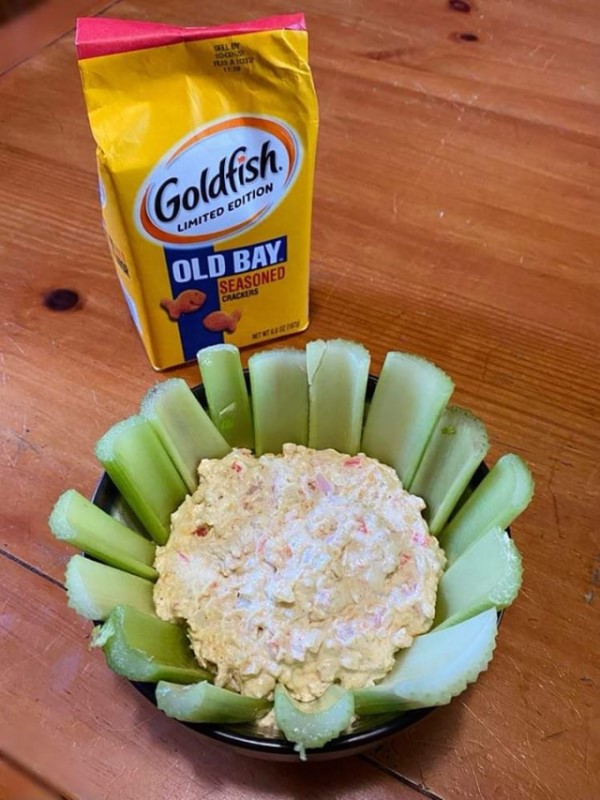 Hot Cajun-Spiced Crab, Shrimp, and Cheese Dip with Old Bay Goldfish Crackers
Ingredients
8 ounces cream cheese
1/4 cup mayonnaise
1 tbsp Cajun seasoning (we used Chef Eddie Adams' Cajun Flavor Seafood Seasoning)
1 tbsp yellow mustard
1 tbsp seafood or chicken broth
1 cup Old Bay Goldfish crackers, beaten into crumbs
4 ounces cooked crabmeat, chopped
4 ounces cooked shrimp, chopped
Instructions
Heat the cream cheese, mayo, seasoning, mustard, and broth over a low heat, stirring, until the cream cheese is very soft.
Add the crabmeat and the shrimp. Stir the mixture occasionally over the low heat until the ingredients are mixed thoroughly and the seafood has heated through.
Scoop the dip into a serving dish. Serve it with celery, chips, carrots, or sliced baguettes.
Blackened Cajun-Spiced Seafood Salad Sandwiches with Old Bay Goldfish Crackers
We made a double batch of the salad above because we knew full well we'd want more. Two days later, we finished it off for dinner by turning it into cheese melt sandwiches. All we did was take two half-cup leftover scoops of the dip from the fridge, heat a frying pan to medium heat, melt some butter in it, and blackened the scoops for 3 minutes on each side before melting shredded Colby Jack blend cheese into it and serving it on two toasted baguettes. It was a huge hit!