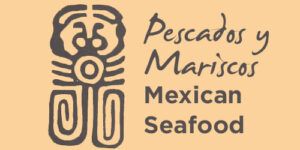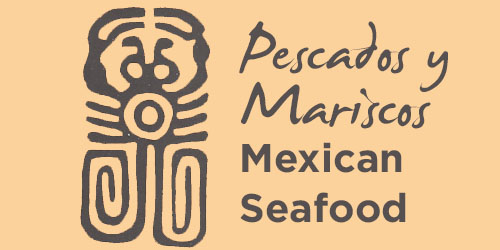 After long months of confinement and very limited social life due to the pandemic, I decided to run away from Mexico City's source of contagion and the "cold" weather of its western surrounding mountains. Longing for the tropical climate and a change of scenery, I found myself driving to Tulúm—roughly 1,000 miles—through many towns where I would stop for gas, rest, and to enjoy the local foods. On the third day of driving I finally crossed the border between Yucatán and Quintana Roo. The adrenaline of discovery kept me going, worked wonders, only to disappear right before the return trip…
The Yucatán Península is composed of three states: Campeche, Yucatán and Quintana Roo. While Campeche and Yucatán face the Gulf of Mexico, Quintana Roo faces the Caribbean. This beautiful region is rich in history and culture, the Mayan heritage and the regional gastronomy the most significant manifestations of them. Beaches, ancient ruins, cenotes, lagoons, and jungle make this place an explorers' paradise.
The Maya founded Bacalar, in the south of the state, around 400 years AC but Quintana Roo only became a state in 1974. Before tourism arrived en masse, it was only a sparsely populated territory, a piece of land whose economy was based on timber exploitation and fisheries. Home of Cancún and Tulúm, its economy today is based mainly on tourism and its gastronomy is composed of Mayan delicacies and Mexican Caribbean Seafood. While the iconic dish of this region is Cochinita Pibil, this place has enough coast line to make its maritime gastronomy one of the best in Mexico with Pescado Tikin Xik being its preeminent dish.
Different regions in Mexico will show you different customs. I discovered—the hard way—that I shouldn't order in a restaurant my two or three course meals at once because they would bring them at once. The way to go about it is to order only one dish, finish it, order the next one, and so on. Meals will take longer this way but who is in a hurry outside Mexico City? This behavior may cause certain looks from the service people but hey, I like my meals in installments. The second reason to order course by course—which I learned the hard way too—is that the portions served in this part of Mexico are humongous, and while you are ordering two or three dishes, the server just doesn't bother to warn you that you are ordering too much food. I once ordered a ceviche as a starter and… Well, first of all they brought everything at the same time, and the ceviche—no kidding—was enough for four people! And to top it all, I just watched the rest of the food getting cold; not a good experience. One seldom learns at a first try, so this happened to me a second time in a different restaurant. I concluded then that it is a regional custom and I made sure that never happened to me again.
The main highway in Quintana Roo runs north-south from Cancún to Bacalar, turning left into Chetumal, capital of the state and border city with Belize. There are, however, many roads going west towards Yucatan—mainly Mérida—all in excellent shape, that offer a lush scenery. The small towns you cross have family run restaurants that basically offer Yucatecan fare and seafood brought from the Caribbean in the south of Quintana Roo and the Gulf of Mexico in the north of the state.
The most frequent fish species available in winter time are red snapper, sea bass, and hogfish. In the summertime, add tuna and grouper to the mix. Small restaurants may let you choose the species and the way you prefer it cooked. Your options could be al mojo de ajo, fried with lots of garlic; a la diabla, sauteed with chipotle sauce; a la mantequilla, sauteed in butter; or empanizado, breaded. Also on the menus you will find shrimp, octopus, squid, and conch (in season) that can be served individually or in any combination thereof in ceviche. You may want the seafood of your choice in tacos, quesadillas prepared al gusto, with the technique of your choice. I find this is equivalent to having your personal chef cooking your latest whim. Abusing this system, I once asked for shrimp tacos al mojo de habanero, the cook came out and asked how was that, so I proceeded to tell him mucho ajo y mucho habanero, and he diligently complied—recipe below. Service people are gracious and always nice. It is impressive that most speak Mayan among themselves, Spanish to the Mexican customers, and often English to foreign tourists. I find that Mayan people have a knack for languages because when I hear them speaking English their accent is much better than that of many Mexicans.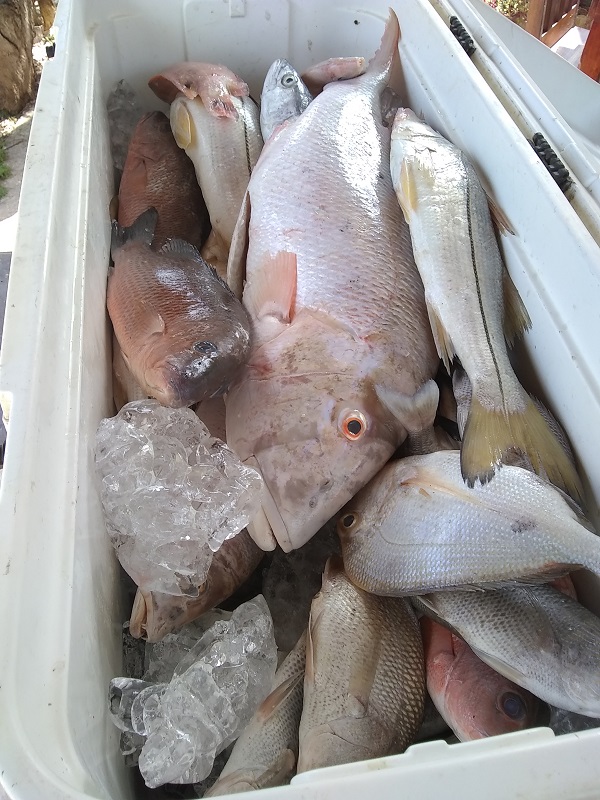 One thing that got my attention while driving was that some restaurants displayed ostensibly in the front of the store a big ice chest—it can be seen from the road. I had to stop and find out. Turns out that this indicates they have fresh fish for sale by the kilo. You can choose the fish from different species and sizes, and take it home or they can cook it for you and eat it on the spot for an extra $1 USD per kilo, too. One time I asked my sea bass to be divided in two pieces: half to be prepared as ceviche and the other half al mojo de ajo—recipe below. Do I need to say that I skipped supper that day? This was definitely my favorite seafood restaurant concept of the trip.
More than once I've heard: "I hate you foodies. You only spend time going places and eating all kinds of foods." Well I hope this piece doesn't provoke a similar reaction on you. Instead, I hope it provokes you to go and get their bags ready—sunblock and mosquito repellent included. What's stopping you from doing it?
Recipes
Filete de Pescado al Mojo de Ajo
A quick way to prepare a fresh fish filet if you are a garlic fan and in a hurry.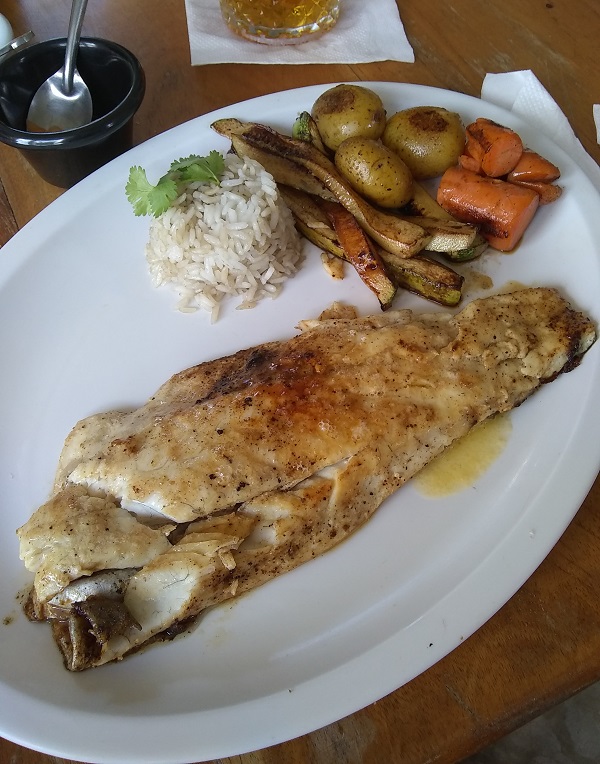 Ingredients
4 fsh filets
8 to 10 Garlic cloves chopped
Cooking oil
Salt to taste
A sprig of cilantro for garnish
Your choice of vegetables fresh or cooked on the side along with rice
Instructions
Fry the garlic until it changes color, get it out of the oil and reserve. Fry the fish in the garlic flavored oil, paper napkin dry it and serve with the fried garlic and cilantro on top. Enjoy!
Yield: 4 Servings
Camarones al Mojo de Habanero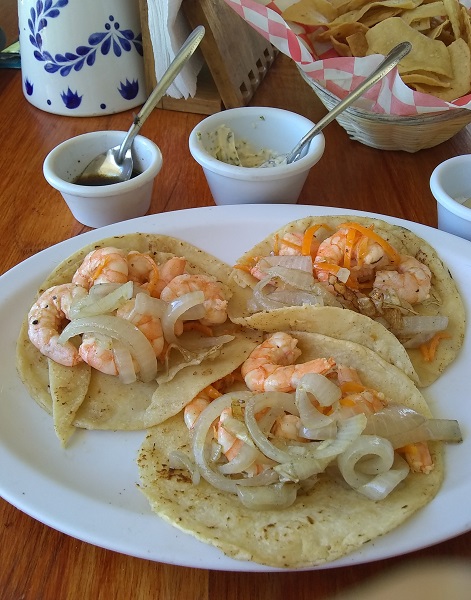 Ingredients
24 headless, tailless, deveined shrimp
8 to 10 garlic cloves chopped
4 habanero chiles stemmed and seeded chopped
Cooking oil
Salt to taste
A sprig of cilantro for garnish
Your choice of vegetables fresh or cooked on the side along with guacamole
Instructions
Fry the chiles and the garlic until it changes color, get them out of the oil and reserve. Fry the fish in the habanero garlic flavored oil and serve with the fried habanero and garlic on top. Save the oil for the next recipe. Enjoy!
Yield: 4 Servings
Heat level: Hot
Tacos de Pulpo a las brasas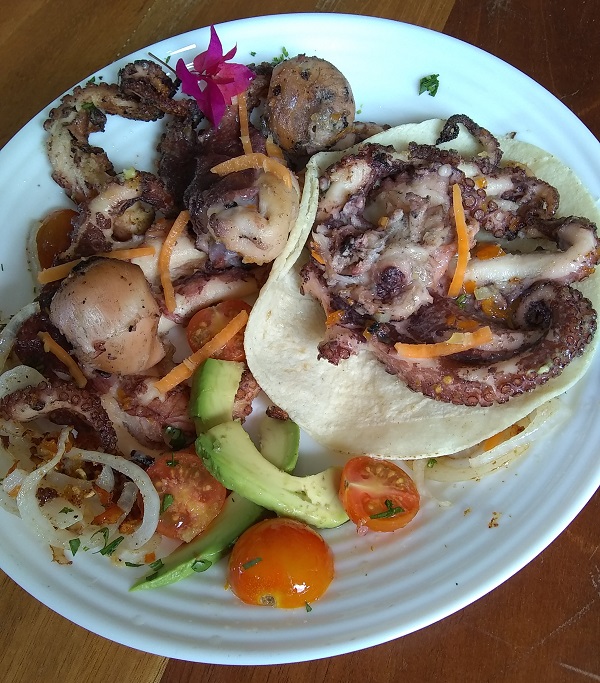 Ingredients
2 lbs. cooked octopus
The leftover oil from last recipe
Sea salt to taste
Aromatic wood or mesquite charcoal grill
Corn tortillas
2 avocados, sliced
Instructions
On low heating coals grill the octopus allowing time for it to absorb the smoke. Remove the octopus from the grill and brush it generously with habanero garlic oil.
Put the octopus back on the grill between 3 and 5 minutes. Remove and add the salt.
Serve cut in one inch pieces in tacos with avocado. Enjoy the smoke flavor and the heat!
Yield: 4 servings
Heat Scale: Hot