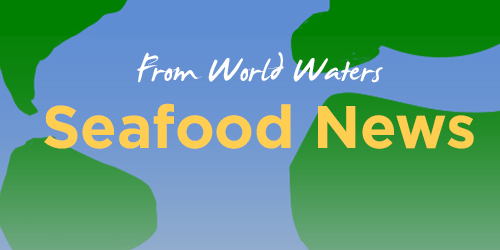 Global Industry Analysts Inc., (GIA) today released its report titled "Seafood – Global Market Trajectory & Analytics." The report presents fresh perspectives on opportunities and challenges for the seafood market in a significantly transformed post-COVID-19 world.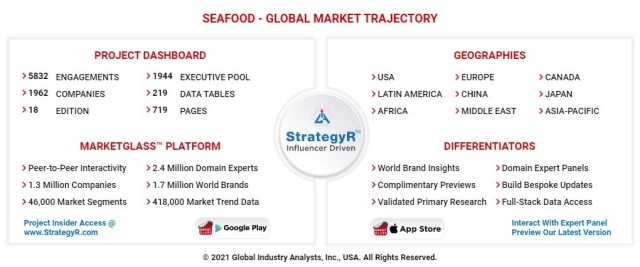 Global Seafood Market: The U.S. Market is Estimated at
$6.3 Billion

in 2021, While China is Forecast to Reach

$51.2 Billion

by 2026

The Seafood market in the U.S. is estimated at US$6.3 Billion in the year 2021. China, the world`s second largest economy, is forecast to reach a projected market size of US$51.2 Billion by the year 2026 trailing a CAGR of 3.7% over the analysis period. Among the other noteworthy geographic markets are Japan and Canada, each forecast to grow at 1.3% and 2.1% respectively over the 2020-2027 period. Within Europe, Germany is forecast to grow at approximately 1.6% CAGR.

Technological advancements made in production, processing, packaging & distribution of fishery and aquacultural products are wielding a strong positive influence on seafood demand patterns across the world. Leveraging high-tech improvements in processing technologies, a range of products are being offered in primary and secondary versions such as whole gutted fish, fillets, loins, kebabs, steaks and cutlets; and value-added variants such as grilled, marinated, pre-fried, smoked, salted, seasoned, dusted, breaded, and stuffed fish etc., are attracting more number of consumers. Seafood consumption is also growing in developing and less developed countries in Asia-Pacific, Latin America, the Middle East and Africa. Rising per capita fish consumption in countries such as China, India and other East, South and Southeast Asian countries is driving overall seafood volume growth. Going forward, developing countries are poised to account for more than 80% of total new seafood consumption by 2030.
Tuna Segment of Seafood Market to Reach
$16.2 Billion

by 2026

Tuna is considered to be the most favorite seafood in the west and accounts for nearly 25% of the total seafood consumption. Tunas are usually fast swimmers, covering thousands of miles in a few weeks. Tuna can be classified as white and light tuna. Out of the 12 different types of fishes that are sold as tuna only albacore is a white tuna. The remaining species such as yellowfin, bigeye, bluffing, and skipjack are classified as light tuna. In the global Tuna segment, USA, Canada, Japan, China and Europe will drive the 2.7% CAGR estimated for this segment. These regional markets accounting for a combined market size of US$7.9 Billion in the year 2020 will reach a projected size of US$9.5 Billion by the close of the analysis period. China will remain among the fastest growing in this cluster of regional markets. Led by countries such as Australia, India, and South Korea, the market in Asia-Pacific is forecast to reach US$5.1 Billion by the year 2026, while Latin America will expand at a 2.4% CAGR through the analysis period.