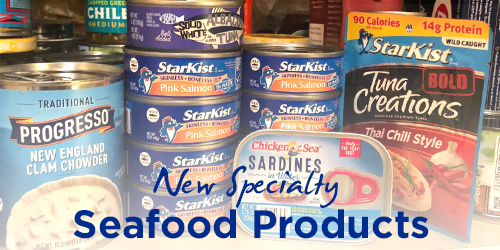 Gathered Foods, makers of Good Catch plant-based seafood, announces the launch of a new line of Plant-Based Breaded Seafood. Specifically, fish sticks, fish fillets, and crab cakes. Developed to recreate classic nostalgic comfort foods, the new lineup — crafted from Good Catch's proprietary six-legume blend (peas, chickpeas, lentils, soy, fava beans and navy beans) — offers a plant-based solution to bycatch, mercury contamination, and overfishing.
The launch includes: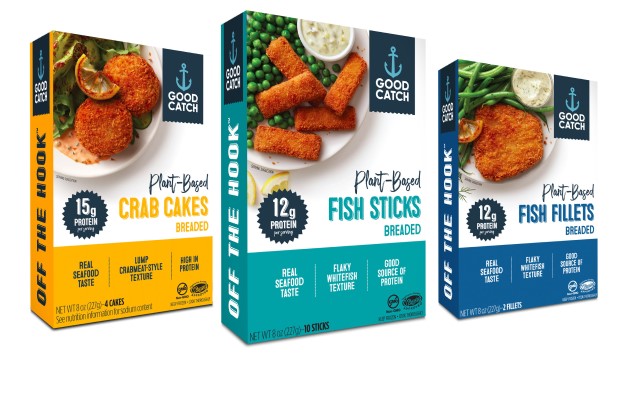 Plant-Based Breaded Fish Sticks (MSRP:

$5.99

): Deliciously flaky plant-based whitefish sticks have 12g protein per five sticks, each coated with a light, crispy breading. They're a convenient freezer friend for quick and easy weeknight meals. Sized perfectly for little hands to dunk into ketchup, they also make craveworthy grownup meals. Each box contains 10 fish sticks.
Plant-Based Breaded Fish Fillets (MSRP:

$5.99

): With 12g of protein per serving, our fillets have a tender, flaky whitefish texture encased in a light, crispy breading. Keep these in the freezer for savory, crunchy satisfaction, without having to even think about a drive-through! Each box contains 2 fish fillets.
Plant-Based Breaded Crab Cakes (MSRP:

$5.99

): An ideal entrée-sized plant-based crab cake with 15g of protein per serving features a lump crabmeat-like texture and sweet crab flavor complemented with bell peppers, green onions, parsley and a hint of spice. Each box contains 4 crab cakes.
The new breaded line will be available in June in select retailers including Giant Food, Martin's, Tom Thumb, Randalls and Acme, as well as select Safeway and Albertsons locations. Good Catch has significant expanded distribution in retail and foodservice planned for late summer and fall of this year. Visit GoodCatchFoods.com/where-to-buy for more information on retailers near you.
This product extension is the latest evolution from the plant-based seafood brand, expanding beyond its portfolio of six offerings, including New England Style Plant-Based Crab Cakes, Thai Style Plant-Based Fish Cakes, Classic Style Plant-Based Fish Burgers and Plant-Based Tuna, available in Naked in Water, Mediterranean and Oil & Herbs flavors.
Gathered Foods has had an impressive year thus far, most recently announcing a successful B-2 bridge funding round, securing $26.35 million with investments from Louis Dreyfus Company (LDC), Unovis Asset Management, Clear Current Capital and others. Additionally, the brand has had several launches expanding its foodservice footprint. Good Catch Tuna Melts are in all Veggie Grill locations and Good Catch Deli-Style Plant-Based Tuna Salad is now available across several states in Whole Foods Market prepared foods departments. In February, the brand partnered with Bareburger to bring its Plant-Based Classic Fish Burger to consumers through a new vegan offering called The Gulf Burger.