Publisher's Note: We are happy to taste-test seafood products from other manufacturers. The products must be ready-to-eat, but defrosting and heating are allowed. There is no fee involved. Send your request to me, here: daved@fiery-foods.com.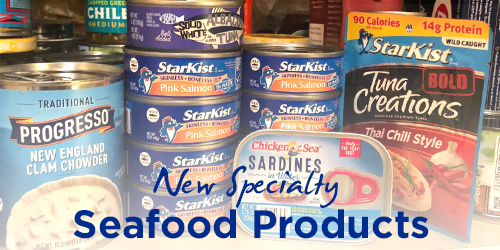 Yesterday, long-time friends and seafood aficionados Leslie Hall and Ellen Tatge joined me in tasting and evaluating one jarred and four tinned products made by Coles Seafood of Bristol, Rhode Island. I am not usually a judge, but as this was a tasting, not a contest, I decided to go ahead with it because I love seafood. The products were Wild Mackerel in Olive Oil, Smoked Trout in Olive Oil, Smoked Salmon in Olive Oil, Smoked Mussels in Olive Oil, and Premium Tuna Fillets in Olive Oil.
Three judges tasted and evaluated all five products. They were judged for their appearance, aroma, texture, originality, flavor, and overall impression. Flavor was the most heavily weighted. A perfect score was 40 Points.
Average of three judges scoring:
Judges' Comments:
Mussels: "So Tasty!" "Great Product." "Best canned shellfish I've ever eaten."
Trout: "Very nice, mild—prefer no skin." "Mild, good."
Tuna: "Tasty—nice to have it in a jar." "Very good!"
Salmon: "Very nice!" "Too strong, a bit bitter. "Better than the trout."?
Mackerel: "Too strong—fishy." "Strong taste—not my favorite."
Personally, I liked all of them with the exception of the mackerel, but I have bad luck with that fish species. Once in Islamorada. in the Florida Keys, I attempted to grill whole, cleaned Spanish mackerel over charcoal coals. I left the barbecue grill for about one minute to get a beer from the small motel refrigerator. When I returned, the three mackerels were torches burning fiercely from all the oil in the fish. I had no way to extinguish the flames, so the meal was ruined. I got take-out redfish fillets from a nearby restaurant instead. That said, all of the judges agreed that the smoked mussels were superb. Thanks for the experience, Coles. These products are available for purchase here.