Almost every culture has their variety of piquant seafood, from Jamaican pepper shrimp to Creole shrimp and andouille jambalaya to Filipino hot and sour soup to Indian fish curry to Korean Jjamppong, a spicy noodle and shrimp soup… and everything in between but they all have a common thread, the liberal use of fiery chiles and very flavorful spices and sauces.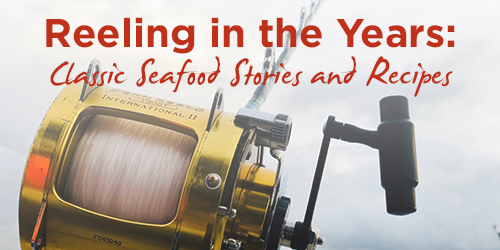 In this segment of Sizzling Seafood we'll take a look at: New Orleans Barbecued Shrimp, Singapore Black Pepper Crab, Firecracker Shrimp, Jamaican Spicy Red Snapper, Thai Red Curry Shrimp with Snap Peas, and Penang Acar. Check out Part One for more.
Sizzling Seafood: New Orleans Barbecued Shrimp
Although called barbecued, this classic New Orleans recipe has nothing to do with outdoor cooking or smoking, it's a Creole/ Cajun method of making succulent shrimp. Head-on shrimp add a layer of flavor to this dish but headless shrimp (shells split and deveined) could be used. Serve with crusty French bread to sop up all the delicious sauce. Food lore claims this dish originated at Pascal's Manale restaurant located in the Garden District of New Orleans in the mid 1950's where it became a signature dish. The last time I had these at Manale they were a $24 entrée item.
Ingredients
2 pounds head-on large shrimp (or one pound headless 21/ 25 shrimp; 10 shrimp per person)
2 tablespoons Creole or Cajun seasoning (see recipe below)
1 pound unsalted butter, divided
1 cup finely chopped yellow onion (about 1/2 medium onion)
6 cloves garlic, peeled and minced (about 2 tablespoons)
1/2 cup finely chopped celery (about one rib)
1/4 cup minced fresh parsley
1 tablespoon ground cayenne chile
1/2 teaspoon dried thyme
1/2 teaspoon dried oregano
2 teaspoons coarse kosher salt
1 tablespoon freshly cracked black pepper (use a large grind)
2 tablespoons Worcestershire sauce
2 teaspoons hot sauce
2 teaspoons fresh lemon juice
Lemon wedges, for serving
Crusty bread, for serving
4 green onions, chopped, for garnish
Instructions
Arrange the shrimp on a baking sheet and sprinkle both sides with Creole seasoning.
Melt two sticks of butter in a medium saucepan over medium heat and clarify. Add the onion, garlic and celery. Cook, stirring, until the onion and celery are softened, about five minutes. Add the remaining butter, parsley, cayenne, thyme, oregano, salt and pepper, Worcestershire, hot sauce and lemon juice. Stir to combine and cook briefly. Transfer the sauce to a small bowl and allow the sauce to cool.
Place the shrimp in a large casserole dish and pour the sauce over the shrimp. Marinate the shrimp, refrigerated, for one hour.
Preheat the oven to 350 degrees F. Bake the shrimp for 20 to 30 minutes or until the shrimp are opaque. (This could also be done in a large skillet on the stovetop.)
Transfer the shrimp and sauce to a large warmed serving bowl. Garnish with green onion.
Serve with crusty bread, lemon wedges and lots of napkins.
Yield: 2 servings
Heat Scale: Medium
Creole Seasoning
While there are several very good commercial blends available, most are very heavy in salt content. By preparing your own mixture the salt content can be modified to your preference.
Ingredients
1/3 cup course kosher salt
1/3 cup smoked paprika
1/3 cup freshly ground black pepper
1/4 cup granulated garlic
1/4 cup granulated onion
3 tablespoons white pepper
2 tablespoons seasoned salt
2 tablespoons cayenne pepper
2 tablespoons dried thyme
2 tablespoons dried basil
1 tablespoon dried oregano
Instructions
Mix all the ingredients until well combined. Store in an air-tight container (such as a canning jar) for up to four months.
Yield: About 2 cups
Heat Scale: Mild to Medium
Sizzling Seafood: Singapore Black Pepper Crab
Black pepper crab is one of the two most popular crab dishes in Singapore. It is made with hard-shell crabs fried with black pepper. Unlike the popular "chilli" crab dish, black pepper crab is less heavy due to the absence of a sauce. Black pepper crab is also very popular in Malaysia.
Ingredients
4 pounds raw blue (or Dungeness) crabs
3 tablespoons dark soy sauce (lao chou or koi-kuchi Shoyu)
3 tablespoons oyster sauce (ho yau)
3 tablespoons granulated sugar
3 tablespoons water
1 1/2 tablespoons oil
1 1/2 tablespoons unsalted butter
1 1/2 tablespoons grated fresh ginger
6 garlic cloves, finely chopped
1 or two red serrano or large Thai chiles, minced
1 1/2 tablespoons freshly ground black pepper
1 1/2 teaspoons white pepper
1/4 teaspoon ground coriander
2 green onions, finely chopped, for garnish
1/4 cup chopped fresh cilantro, for garnish
Instructions
Combine dark soy sauce, oyster sauce, sugar and water in a small bowl, stir, then set aside.
Pull back the apron of each crab, remove top shell, intestines and feathery gills. Rinse quickly. Cut each crab into quarters and crack the legs.
Heat the oil in a wok over high heat; add the crab pieces and stir fry in batches until the shell is bright orange and the meat almost cooked (about five minutes). Remove and repeat until all the crab is cooked.
Add the butter, ginger, garlic, chile, black and white peppers and coriander to the wok; stir fry 30 seconds. Add the sauce mixture and stir; bring to the boil; simmer two minutes.
Return the crab to the wok and toss to coat in the sauce. Cook another two to three minutes to finish cooking the crab. Transfer to a serving platter and garnish with the green onions and cilantro leaves. Serve with steamed jasmine rice.
Yield: 4 servings
Heat scale: Mild to medium
Firecracker Shrimp
These make for a great cocktail party hors d'oeuvre or snack.
Ingredients for the Shrimp:
1 large egg
1/4 cup buttermilk
1 3/4 pounds peeled and deveined large shrimp, tails intact
Vegetable oil, for frying
1 cup cornstarch
Coarse smoked kosher salt
1/4 cup hot sauce (Crystal/ Frank's or your favorite)
4 tablespoons (1/2 stick) unsalted butter, melted
Celery sticks, for serving
Ingredients for the Dipping Sauce:
1/3 cup mayonnaise
1/3 cup sour cream
3 tablespoons red wine vinegar
1 tablespoon finely minced dill
1 teaspoon Worcestershire sauce
4 ounces blue cheese
1 teaspoon ground chipotle chile
Coarse kosher salt
Freshly ground black pepper
Prepare the dipping sauce:
In a food processor, combine all the ingredients except the salt and pepper and purée. Season with salt and pepper.
Make the shrimp:
In a large bowl, beat the egg with the buttermilk. Add the shrimp and toss to coat. Cover and refrigerate for one hour.
Heat 1 1/2 inches of oil in a large saucepan to 375 degrees F. Line a rimmed baking pan with paper towels. Spread the cornstarch in a shallow bowl. In three batches, remove the shrimp from the buttermilk mixture, allowing the excess to drip off, and dredge in the cornstarch. Add the shrimp to the oil and fry over high heat, turning occasionally, until golden and just cooked, about four minutes. Using a slotted spoon, transfer the shrimp to the sheet pan and season with salt.
Whisk the hot sauce with the melted butter in a large bowl. Add the shrimp and toss to coat. Transfer to a warmed serving platter and serve with the blue cheese dressing and celery sticks.
Yield: 4 servings as an appetizer
Heat Scale: Medium
Jamaican Spicy Red Snapper
Although this Jamaican dish is traditionally prepared with whole fish this recipe uses haddock snapper fillets so guests don't need to worry about bones.  Halibut or cod fillets could be substituted for the snapper.
Ingredients
4 (5-ounce) red snapper fillets or 4 (8-ounce) cod or halibut fillets
2 teaspoons fresh lemon juice
Coarse smoked kosher salt
Freshly ground black pepper
Ground cayenne chile
1 teaspoon ground allspice
2 tablespoons vegetable oil
1/2 cup finely chopped sweet bell pepper
1/2 cup finely chopped red onion
1 Scotch Bonnet chile, seeded and finely diced
1/2 cup dry white wine
1 tablespoon minced fresh parsley
1/2 teaspoon dried basil
1/2 teaspoon ground cayenne pepper
1 teaspoon hot pepper sauce such as Walkerswood Jamaican Scotch Bonnet Pepper Sauce
2 cups peeled, diced and drained tomatoes
Lime or lemon wedges, for serving
Fried plantains, for serving
Coconut rice, for serving
Instructions
Rinse the fillets under cold water. Pat dry with paper towels. Sprinkle the fillets with lemon juice. Season to taste with salt, pepper and cayenne. Dust with allspice.
Heat the oil in a skillet over medium heat. Stir in the bell pepper, onion and Scotch Bonnet; cook, stirring, until the onion softens, about five minutes. Add the fillets and cook one to two minutes per side depending on thickness.
Add the wine, parsley, basil and cayenne pepper. Cover and simmer for two minutes. Add the hot pepper sauce and tomatoes.
If using the thicker cod or halibut fillet, preheat the oven to 350 degrees F. Transfer the fillets and sauce to an ovenproof baking dish and sprinkle with pepper sauce. Spoon the bell pepper, onion, tomatoes and chile over the fish. Bake until the fish is opaque (140 degrees F.), about eight minutes.
Serve with lime or lemon wedges, fried plantains or yams and coconut rice.
Yield: 2 servings if using snapper; 4 for other fish
Heat Scale: Hot
Sizzling Seafood: Thai Red Curry Shrimp with Snap Peas
This dish is best prepared just before serving so the snap peas retain their crisp texture. The colors of the dish (orange-red curry, green snap peas, white rice and pink shrimp) makes for a restaurant-quality presentation. This fast recipe is great for a weeknight dinner. The amount of heat in this curry may be adjusted by increasing the amount of curry paste.
Curries are eaten in combination with rice, long-grained jasmine rice in central and southern Thailand and sticky rice in northern Thailand, or with noodles such as khanom chin (fermented rice noodles).
Ingredients
1 pound 21/ 25 shrimp, peeled and deveined (10 shrimp per person)
2 tablespoons canola oil
2 tablespoons red curry paste, either commercial or homemade (recipe follows)
1 (13 1/2-ounce) can unsweetened coconut milk
1 cup reduced sodium chicken or fish stock
2 cups sugar snap peas, stringed if necessary
1 fresh chile (such as red jalapeno or serrano), thinly sliced on the diagonal
5 Thai (kaffir) lime leaves, center vein removed and cut into thin strips
2 tablespoons Thai fish sauce (Nam Pla; Tra Chang Gold Label is good)
1 tablespoon light brown sugar
1/2 teaspoon coarse kosher salt
5 Thai basil leaves, roughly chopped
Lime wedges, for serving
Steamed rice or cooked noodles, for serving
1/2 cup chopped cilantro, for garnish
Instructions
Heat the oil in a 2 1/2-quart saucepan or a wok over medium heat until a bit of curry paste sizzles when added to the pan. Add the curry paste and cook, pressing and stirring to soften the paste and mix it in with the oil, until fragrant, about two minutes.
Add the coconut milk and stock and bring to a simmer. Simmer, stirring often, for five minutes.
Increase the heat to medium high and let the curry sauce come to a low boil. Add the shrimp, sugar snap peas, chile and half of the lime leaves; stir well. Cook, stirring occasionally, until the shrimp begin to curl and turn pink, about two minutes. Add the fish sauce, sugar and salt; stir to combine. Remove from the heat.
Stir in the basil along with the remaining lime leaves. Allow the flavors to blend for five minutes. Serve with rice or noodles, pickled onions and lime wedges. Garnish with cilantro.
Yield: 2 servings
Heat Scale: Medium
Red Curry Paste
Ingredients
12 dry Thai chile peppers, seeded and soaked in warm water until softened
1 tablespoon coriander seeds
1/2 teaspoon black peppercorns
1/2 cup chopped shallots
1/4 cup chopped garlic
3 stalks lemongrass, outer leaves and tops removed, minced
3 tablespoons peeled and chopped fresh galangal (or substitute fresh ginger)
2 tablespoons chopped cilantro
2 teaspoons Kaffir lime zest
1 teaspoon shrimp paste
Instructions
In a skillet, dry roast the coriander and peppercorns over low heat until fragrant, about three minutes. Remove and let cool. Grind in a spice grinder.
Return the pan to medium heat. Add the shallots and garlic and cook, stirring, until the shallot softens, about three minutes. Remove from the heat and let cool.
Drain the chiles, reserving the liquid, and roughly chop.
In a blender or food processor, combine all the remaining ingredients with 1/4 cup of the reserved soaking liquid. Process to make a smooth paste, scraping down the sides several times and adding more liquid, one tablespoon at a time, as needed.
Transfer to an airtight container and keep refrigerated until ready to use. The paste will keep refrigerated for up to one month.
Yield: About 1 1/2 cups
Heat Scale: Medium
Penang Acar
Penang acar (also called achar) is a vegetable dish that is served at any special occasion in Penang, a state in Malaysia. It is a pickle dish that has to be cooked. As with most spicy dish, Penang acar tastes better when the pickle is left overnight to allow all the spice ingredients to blend. It will keep up to four weeks in the refrigerator and makes a great accompaniment to any Indonesian meal.
Prepare rempah (chile paste):
2 shallots, peeled and chopped (about four tablespoons)
2 cloves garlic, peeled and chopped (about two teaspoons)
2 (five-inch) stalks lemongrass (about five tablespoons)
3 candlenuts (or macadamia)
1 (one-inch) piece galangal, peeled and chopped (about two tablespoons)
For the Acar:
2 cucumbers, peeled and seeded
1 medium carrot, peeled
4 shallots, peeled (about eight tablespoons)
2 cloves garlic, peeled (about two teaspoons)
2 green and red chiles, seeded and thinly sliced
1 (one-inch) piece ginger, peeled and thinly sliced (about one tablespoon)
1 tablespoon mustard seeds, crushed
1/2 teaspoon turmeric
1 tablespoon granulated sugar
1 tablespoon white vinegar
2 tablespoons peanut oil
1/4 cup sliced radish
2 tablespoons toasted sesame seeds
Instructions
Mix all the chile paste ingredients in a blender or small food processor and process until smooth.
Slice the cucumber in half and into 1/4-inch pieces. Cut the carrot into two-inch strips. Dice the shallots and garlic into quarters. Slice the green, red chiles and ginger into thin strips.
Put the carrot and cucumber in a colander and sprinkle with coarse kosher salt. Let the vegetables drain excess moisture for one hour. Rinse the vegetables that have been salted and drain.
Combine the chiles, ginger and mustard seed. Add the turmeric, sugar and vinegar.
Heat the oil in a frying pan over medium heat. Add the chile paste and fry until fragrant. Add the drained vegetables and radish; stir-fry for five minutes. Remove from heat and let the mixture blend for one hour.
Sprinkle with toasted sesame seeds and serve.
Yield: 4 servings as a side dish
Heat Scale: Medium
Feature Photo and video clip by Kindel Media from Pexels