Chef Jean-Pierre Brehier, originally from Aix-en-Provence, France, is known for hosting the TV cooking show "Incredible Cuisine with Chef Jean-Pierre." Here, he offers an unusual, lighter variation of the standard crab cakes. Serve as an appetizer or a light lunch.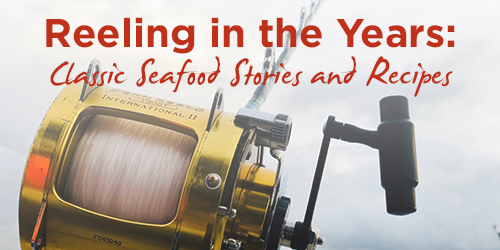 Crab, Salmon, & Scallop Cakes w/ Fruit Salsa Ingredients
1 cup salt-free saltine cracker crumbs
1/4 cup whole wheat cracker crumbs
3/4 cup egg substitute, or 3 whole eggs
3 cloves garlic
1 tablespoon fresh ginger, chopped
1/4 cup fresh cilantro leaves, chopped
1/4 Scotch bonnet chile, stem removed, seeded and quartered
Salt and white pepper to taste
1/2 green bell pepper, finely diced
1/2 yellow bell pepper, finely diced
8 ounces salmon, chopped into half-inch cubes
8 ounces sea scallops, chopped into half-inch cubes
8 ounces jumbo lump crab meat
1 tablespoon extra virgin olive oil
Instructions
Preheat oven to 350°F degrees.
Using a food processor, make crumbs with the whole wheat and saltine crackers but KEEP THEM IN SEPARATE BOWLS.
In a food processor, combine the egg substitutes, garlic, ginger, cilantro, Scotch bonnet chile, and salt and white pepper to taste. Mix until all ingredients are liquid.
In a large glass or stainless steel bowl, combine the bell peppers, salmon and scallops with the egg mixture and blend well until the seafood is coated with egg. Add the whole wheat cracker crumbs, mix again and then carefully fold in the crab meat.
Form six cakes that are approximately 3″ diameter by 1″ thick each. Roll each cake in the saltine cracker crumbs until totally coated.
In a nonstick sauté pan, heat 1 teaspoon extra-virgin olive oil. Fry the cakes until they are golden brown on one side. Turn them over and bake in a 350°F oven for 10 minutes.
Serve with the Papaya, Mango and Pineapple Relish.