Almost every cuisine has its variety of piquant seafood, from ceviche to spicy soups to pan-fried fish. And most recipes – even humble fish and chips – can be adapted to add a spice component.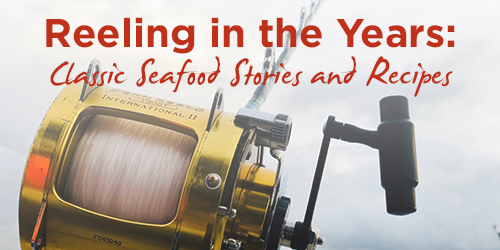 Sichuan Shrimp
This recipe makes an impressive entrée that is easy to prepare, yet elegant in its presentation.
Ingredients
Szechwan Shrimp
1/4 cup fish stock or clam juice
1-2 tablespoons Sriracha, depending on heat desired
1 tablespoon reduced sodium soy sauce
2 teaspoons cornstarch
1 teaspoon honey or agave syrup
1/2 teaspoon crushed red pepper flakes
1/4 teaspoon ground ginger
1 tablespoon canola oil
1/4 cup sliced green onions
4 cloves garlic, minced
12 21/25 steamed shrimp (about 3/4 pound)
Directions
Combine the stock, Sriracha, soy sauce, cornstarch, honey, crushed red pepper and ginger in a bowl. Stir well to combine and reserve.
Heat the oil in a medium sauté pan over medium-high heat. Add the green onions and garlic. Cook briefly. Add to sauce. Simmer until the sauce is warmed. Add the shrimp and toss to coat.
Garnish with chopped green onion. Serve with rice and Sichuan asparagus.
Serves: 2
Heat scale: Medium to hot
How to Steam Shrimp
Steaming shrimp keeps the flavor of the spices, while boiling shrimp just washes them off. Shrimp cook very quickly, so be sure not to overcook them or they become tough and rubbery.
De-vein the shrimp but leave the shell and tail on. (Reserve the shells for stock.)
In a medium saucepan combine 1/2 cup water (or beer), 1/2 cup white vinegar and two tablespoons Old Bay seasoning. Put a steamer basket in the saucepan and bring the liquid to a boil.
Add the shrimp, cover and steam for three to five minutes, or until the shrimp are opaque. Drain the shrimp and plunge into an ice bath to stop the cooking.
Szechwan Asparagus
Ingredients
Sichuan Asparagus
12 spears asparagus, tough ends removed and cut into thirds
1 tablespoon olive or canola oil
1 teaspoon minced garlic
1/2 teaspoon grated ginger
1 teaspoon Sriracha sauce
1 tablespoon oyster sauce
1/2 teaspoon sesame oil
Instructions
Heat a large skillet over medium-high heat. Add the oil. When the oil stops shimmering add the garlic, ginger and Sriracha. Cook briefly.
Add the asparagus and cook five to six minutes or until the asparagus is barely tender. Stir in the oyster sauce and sesame oil. Toss to coat.
Serves: 2
Heat scale: Medium
The components of ceviche – raw fish marinated with citrus juices and other ingredients – vary depending on where it's prepared. While ceviche originated in Latin America, it is now popular in many other countries, each with a different spin. The key to ceviche is using extremely fresh fish and keeping it very cold until serving.
In Mexico, shrimp, squid, tuna and mackerel are commonly used for ceviche. The marinade is salt, lime juice, chile, avocado and cilantro. White sea bass marinated in lemon juice, minced onion, habanero and salt is common in Panama. Florida offers a ceviche made with diced fresh conch marinated with lime juice, chopped onion, minced celery, bell pepper and diced Scotch bonnet chiles.
Hawaiian-style ceviche (poke, a cross between sushi and ceviche) features halibut, snapper, ahi or mahi-mahi marinated in rice wine vinegar, soy sauce, lime juice, ginger and wasabi.
Here's my version of ceviche:
Ingredients
Ceviche
1 pound Sashimi-grade mahi-mahi or ahi tuna
1/4 cup minced red onion
1 cup seeded and diced Roma tomato
2 jalapeño chiles, seeded and diced
1/2 teaspoon coarse kosher salt
1/2 teaspoon freshly ground black pepper
1 teaspoon hot sauce
1/2 cup diced green bell pepper
1/4 cup chopped cilantro
1/2 cup fresh lime juice
1/2 cup fresh lemon juice
Sliced black olives, for garnish
Cilantro leaves, for garnish
Pickled onion, for garnish
Lettuce leaves to line serving bowls
Lime wedges
Instructions
Dice the fish into 1/2-inch cubes. Place the fish, onion, tomatoes, chile, salt, pepper, hot sauce, bell pepper and cilantro in a non-reactive bowl. Cover with lime and lemon juice. Refrigerate, covered, for one hour. Stir, making sure all of the ingredients are covered with the citrus juices. Refrigerate for several hours, giving time for the flavors to blend.
For service, pour off most of the marinade liquid and spoon the ceviche into serving bowls lined with lettuce leaves.
Garnish with sliced black olives, cilantro and pickled onion. Serve with lime wedges.
Serves: 6 to 8 as an appetizer
Heat Scale: Medium
Pickled Onion
Pickled onion is a nice addition to ceviche, salads, hamburgers and sandwiches. Refrigerated, these onions will keep for two weeks.
Ingredients
1 cup water
1/2 cup apple cider vinegar
1 tablespoon granulated sugar
1 1/2 teaspoons course kosher salt
2 cups thinly sliced red onion (one medium onion)
2 tablespoons thinly sliced shallot
Instructions
Whisk together the water, vinegar, sugar and salt until the sugar and salt dissolve. Place the onion and shallot in a jar or non-reactive container; pour the vinegar mixture over.
Let this mixture sit at room temperature for one hour, then refrigerate it for and additional three to four hours. Drain the pickled onions before serving.
Yield: 1 cup
Heat scale: Mild
Jamaican Jerk Fish
In Jamaica, jerk cooking is a way of life. Chicken, pork, goat and fish are cooked over pimento wood – usually in repurposed 55-gallon drums – and served alongside the road from "Jerk Shacks." This recipe uses jerk seasoning, and fries the fish instead of smoking it.
Ingredients
2 pounds farm-raised trout or tilapia fillets
2 tablespoons jerk seasoning (homemade—see recipe below, or a commercial variety such as Walkerswood)
1 tablespoon canola oil
1 1/2 tablespoons Tamari soy sauce
Vegetable oil for frying
Instructions
Rinse the fish and pat dry. Slice the fish lengthwise in two-inch strips.
Mix jerk seasoning, oil and soy sauce in small bowl. Rub the seasoning mixture onto the fish and let the fish marinate for 30 minutes.
Heat a cast iron skillet over medium-high heat and add enough oil to fill the pan halfway. When the oil is hot, add the fish and fry for three minutes per side or until the fish begins to flake. Remove the fish from the skillet and drain on paper towels.
Serve with fried plantains and jerk sauce on the side—see recipe below.
Serves: 2
Heat scale: Medium to hot
Jerk Seasoning
Ingredients
1/3 cup paprika
2 tablespoons ground allspice
4 teaspoons brown sugar
1 tablespoon dried thyme
1 tablespoon coarse kosher salt
2 teaspoons freshly ground black pepper
1 teaspoon ground nutmeg
1 teaspoon ground cinnamon
1 teaspoon ground cayenne pepper
Instructions
Combine all of the ingredients in a small bowl.
Tightly covered, this seasoning will keep for one month.
Yields: 3/4 cup
Heat scale: Medium
Jerk Sauce
Ingredients
1/2 cup peanut oil
1/2 cup white vinegar
1/4 cup lime juice
1/4 cup dark brown sugar
5 green onions, chopped
3 tablespoons ground allspice
3 habanero chiles, seeded and chopped
1 (one-inch) piece ginger, peeled and chopped
5 cloves garlic, peeled and chopped
2 tablespoons fresh thyme
2 tablespoons soy sauce
2 tablespoons ketchup or chili sauce
1 tablespoon ground whole black peppercorns
1 tablespoon ground cinnamon
Instructions
Combine all of the ingredients in a blender or food processor and process until smooth.
Transfer to a mason jar, cover and store, refrigerated, for up to two months.
Heat scale: Medium to hot
Ginger Sea Bass
Any firm-flesh white fish (snapper, grouper or striped bass) could be used for this recipe. Serve with steamed vegetables and a salad.
Ingredients
6 black sea bass fillets, about five ounces each, skin on and scaled
Ginger Sea Bass
3 tablespoons canola oil
2 tablespoons minced ginger
3 cloves garlic, peeled and thinly sliced
3 serrano or Thai chiles, seeded and sliced
4 green onions, thinly sliced lengthwise into three-inch pieces
1 tablespoon Tamari (Shoyu) soy sauce
Coarse kosher salt and freshly ground black pepper
Lemon and lime zest for garnish
Instructions
Season both sides of the fillets with salt and pepper. Score the skin on a bias three times to reduce curling.
Heat a large skillet over medium-high heat. Add one tablespoon of the oil. When the oil begins to shimmer fry three of the fillets, skin side down, for five minutes or until the skin is crisp. Turn the fish over and cook for another minute. Repeat with remaining fillets.
Heat the remaining oil and fry the ginger, garlic and chile until golden. Add the green onion and cook briefly.
Drizzle soy sauce over the fish and top with the ginger-garlic mixture. Garnish with citrus zest.
Serves: 3
Heat scale: Medium
Singapore-style "Chilli" Crab
This unofficial "national dish" of Singapore is usually prepared with succulent fresh freshwater (mud) crabs in a hearty, sweet and spicy sauce. It is best eaten with your fingers! The spiciness of this dish can be adjusted by increasing the amount of Sriracha and chiles used. As written, it is only somewhat spicy.
Ingredients
2 whole cooked Dungeness crabs (or two large uncooked freshwater crabs)
1/4 cup ketchup or chili sauce
2 tablespoons Sriracha sauce
2 tablespoons oyster sauce
2 tablespoons dark soy sauce
1 tablespoon tamarind paste
1/4 cup rice wine or chicken stock
3 tablespoons peanut oil
4 green onions (scallions), thinly sliced
1 (1-inch) piece fresh ginger or galangal, peeled and grated
4 cloves garlic, peeled and finely minced
2-4 serrano or six Thai chiles, seeded and finely diced
2 tablespoons chopped fresh cilantro leaves
2 eggs, beaten
Cilantro leaves, for garnish
Lime wedges, for garnish
Instructions
Pull the main shell off the crab and discard it. Remove the gray gills and the soft insides. Cut the body in half, then cut between each leg. Crack the legs and claws with the back of a knife or mallet and set aside.
Combine the ketchup, Sriracha, oyster sauce, soy sauce, tamarind paste and rice wine in a bowl; set aside. Heat a wok or large skillet over high heat and add the oil. Add the green onion, ginger, garlic, half of the chile, and cilantro and cook for one minute. Add the crab and stir-fry for another minute. Pour in the sauce and continue cooking, stirring often, until the crab has absorbed the sauce and the sauce has thickened, about five minutes. Stir in the egg and cook until the egg sets.
Put onto a platter and garnish with the remaining chile and cilantro. Serve with lime wedges and lots of napkins!
Serves: 4 as appetizer, 2 as entrée
Heat scale: Medium
Hot and Sour Fish Soup
This Asian-inspired soup combines an aromatic broth with fish, shrimp and light noodles, topped with robust herbs. Tuna or swordfish could be substituted for the salmon.
Ingredients
1 teaspoon whole coriander seeds
1 1-inch piece ginger or galangal, peeled and sliced
3 1/2 cups chicken or fish stock
6 ounces bean thread noodles
2 tablespoons fish sauce (Nam Pla or Nuoc Nam)
2-4 red serrano chiles, seeded and thinly sliced
3 garlic cloves, peeled and thinly sliced
10 ounces raw, tail-on prawns or shrimp
7 ounces skinless salmon fillet, cut into 1/2-inch cubes
4 green onions, bias sliced
1/2 cup cilantro leaves, coarsely minced
1/2 cup mint leaves, torn
1/4 cup fresh lime juice (two limes)
Instructions
Put the coriander seeds and ginger in a saucepan. Pour in the stock, bring to a boil and reduce the heat to a simmer. Simmer gently for five minutes.
Meanwhile, cook the noodles following package instructions. Drain and keep warm. Return the stock to a low boil. Add the fish sauce, chiles and garlic, reduce the heat and simmer for two minutes. Add the prawns and salmon; return to a simmer and cook gently for about five minutes or until both are firm and cooked. Add the green onions, herbs and lime juice.
Divide the noodles between soup bowls. Using a slotted spoon, lift out the prawns and fish and place on the noodles. Pour in the stock and serve.
Serves: 2
Heat scale: Medium to hot, depending on the amount of chile used